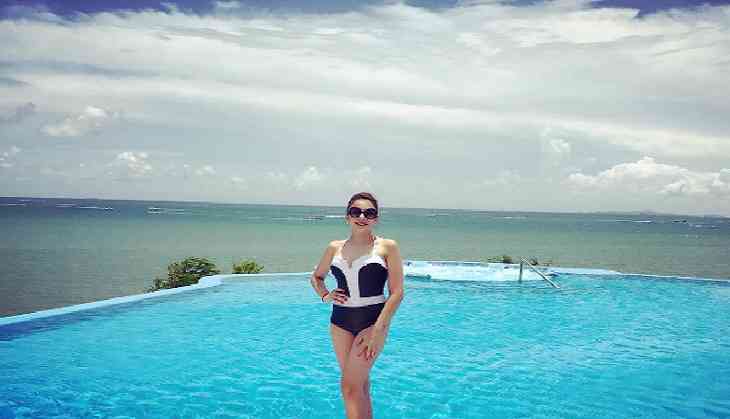 Nitibha Kaul was a commoner contestant in the last season of popular reality show Bigg Boss. But she soon turned into a celebrity after coming out of the house. Along with the life of a celebrity comes a whole lot of praises and flaks. And the ex BiggBoss contestant recently faced flak on social media.
Nitibha recently shared a video on her social media where she can be seen dancing in tune to some catchy songs in the black and white video. As soon as she uploaded the video, the haters took a troll to her video. Their comments made Nitibha uncomfortable and she deleted the post.
Later she again posted the video with a message for her haters. She gave a befitting reply to her haters by posting the same video again on her Instagram account. She posted the video with a message that read as, "Had deleted this same post i'd made a few hours back owing to all the crappy comments I was getting. But then, I watched the third episode in Season 1 of the amazingly haunting @blackmirrorseriesand realised- how social media perception is really messing our reality up. And then I realised- this is me, the real me. My expressions might seem like overacting to you, but they're me, MY expressions. You feel like I raise my tattooed wrist up a lot more than I should in pictures and videos- to show off, but that's my wrist, MY movement. You feel like i'm trying too hard, wearing too much makeup, MY body, MY face. Don't like it? I'm not here to please you, but I surely am here to not loose myself, my free spiritedness and my identity because of what YOU say. After all, its ME that matters for myself. Love me for that? I'll love you right back- why else would 350k of you want to know what i'm upto? Hate me for it? Too bad. It won't be enough to stop me."
Nitibha who has almost 360k followers on Instagram raised her voice against cyber bullying. Various comments like 'she was trying too hard to show off her tattoo' and 'acting up' showed up.
She has become quite active on her social media account after the show was over. She will soon be hosting a reality TV show 'Date To Remember' with Bigg Boss contestant Manu Punjabi.