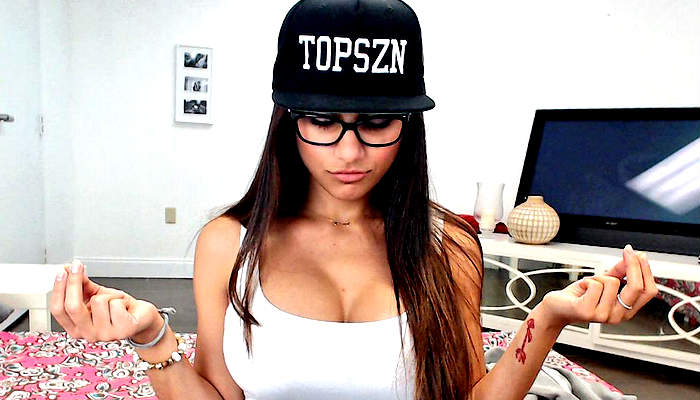 Spicier evenings are around the corner, thanks to the upcoming season 9 of reality show Bigg Boss. As always, the contestants' line up includes some interesting names and some controversial ones. And to set the temperature soaring, rumours are rife that this time adult film star Mia Khalifa will also be a participant.
The world's number one porn star (as declared by pornhub), Khalifa's presence in the reality show is likely to set the TRPs soaring.
It may be remembered that former adult film star and current Bollywood actress Sunny Leone was also one of the contestants in Bigg Boss, in 2011. There were speculations that Shanti Dynamite, another porn star, could be in Bigg Boss 8. However, she was nowhere to be seen.
Also read: Salman Khan's Bigg Boss 9 is copied from Big Brother Africa/ Mzansi
Here are a few interesting facts about Mia Khalifa that just might surprise you:
1. Born in Beirut, Lebanon, Mia Khalifa is also known as Mia Callista. She is a Bachelor of Arts in History from the University of Texas at El Paso.
2. After entering the adult film industry in October 2014, Pornhub declared her the number one porn star in December of the same year.
3. However, she faced criticism for her career choice and even received death threats for wearing a hijab in one of her videos.
Also read: Gurmeet Ram Rahim Singh might just say yes to Bigg Boss 9 (but for this demand)
4. Mia Khalifa married an American in 2011, when she was just 18.
5. She has controversial tattoos on her body - the opening line of the Lebanese National Anthem and a Lebanese Forces Cross.
6. Mia Khalifa is popular for wearing glasses. She is one of the rare porn actresses to sport this signature style.