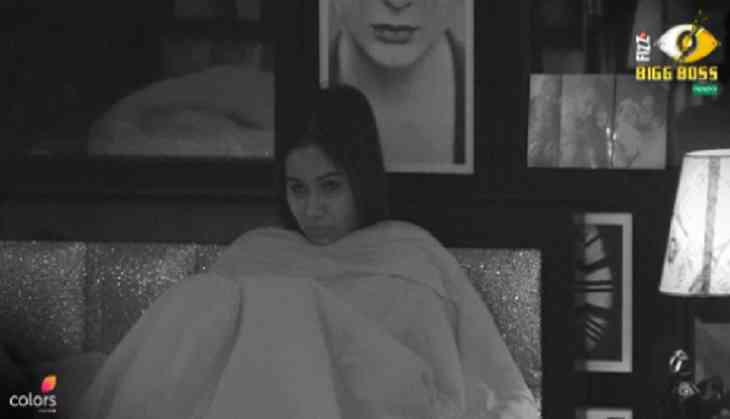 Popular reality show Bigg Boss season 11 has entered into the new week and in the last night's episode the fans got to witness the beginning of the luxury budget task. In the task the Bigg Boss house got converted into a jungle and the housemates had to survive in the jungle come what may. Along with the task came a lot of fights both verbal and physical ones.
For those who did not watched the last night's episode of Bigg Boss 11, we have 5 major Catch points from last night's episode that created a buzz and entertained the contestants as well as the fans of the reality show.
Also Read: Bigg Boss 11: Here's how Salman Khan's cabin inside the house looks like
Check them out:
#MehjabiSiddiqui's stare in the night is freaking out #AkashDadlani & #ArshiKhan! What do you think is happening? #BB11 pic.twitter.com/L77WZGneEP

— Bigg Boss (@BiggBoss) October 24, 2017
1. The show began when the housemates were getting ready for bed and suddenly Mehjabee sat with her eyes wide open and stared all the housemates. Everyone starts talking about her and talks about her getting possessed by a spirit after which Arshi threw a garland at her and enchants some mantras. Hina too prays for her and hugs and puts her back to sleep. Later, Akash made fun of how she was looking at all of them.
.@eyehinakhan quizzes Pooja on her family and background. Is this a start of a friendship? #BB11

— COLORS (@ColorsTV) October 24, 2017
2. Hina tries to interact with Dhinchak Pooja and asks her about her family. Pooja tells her that she had a lot of fan following but her fans are getting affected because of all the negative comments. Hina later said that she loved the way how Pooja is is aware of the backlash and takes it in a sporting way.
Also Read: Bigg Boss 11: Here's how the housemates reacted when Splitsvilla 10 fame Priyank Sharma re-entered the house
.@tentej tells the housemates about the Khulja sim sim luxury budget task! Are you excited? #BB11 pic.twitter.com/ucskanQRUe

— COLORS (@ColorsTV) October 24, 2017
3. The luxury budget task is introduced to the housemates in which they had to survive in the Bigg Boss jungle and divided the housemates into two teams- red and blue. Blue team comprised of Puneesh, Akash, Sapna, Arshi, Bandgi, Vikas and Jyoti whereas the red team comprised of Hiten, Hina, Shilpa, Dhinchak Pooja, Sabyasachi, Mehjabi and Benafsha. Luv was made the superviser of the game and he had to support his favourite team.
#BandgiKalra & @eyehinakhan get into an argument! Who will put an end to their war or words? #BB11 pic.twitter.com/SHev1SdMG6

— COLORS (@ColorsTV) October 24, 2017
4. The housemates threw water on each other and kept on fighting. Bnadgi and Hina got into a fight where the former warned Hina not to use her father's name otherwise she will get a slap.
The blue team try to convince Pooja to go into the house with Arshi Khan. Will she get convinced? #BB11

— COLORS (@ColorsTV) October 24, 2017
5. Bigg Boss sent a gift for Mehjabee which was sent by her family members and asked that if anyone quits the task from both the teams, she will get the gift. The Gufa opened and Akash provoked Pooja to enter the house.
Also Read: Bigg Boss 11: Arshi Khan was lying about having sex with Shahid Afridi; know more
For more updates related to Bigg Boss season 11, stay tuned!