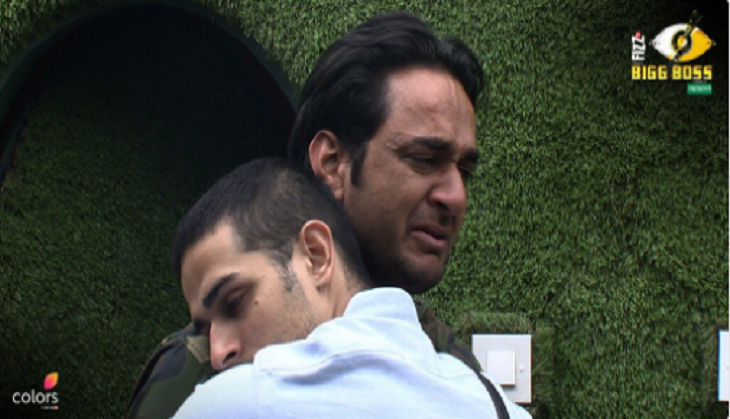 The popular reality show Bigg Boss season 11 is witnessing very interesting turns in the show and the show witnessed an inetersting episode last night when a fight between Vikas Gupta and Hina Khan took place when the latetr commented on the dressing sense of the former. Priyank who came out in support of Vikas, irritated Hina and a massive fight between them also took place.
For those who missed the last night's episode of the reality show, here are the highlights in the form of 5 Catch points that will update you the recent events in the show.
Check them out:
Luv Tyagi & @eyehinakhan discuss about @ipriyanksharmaa. What are they saying? Find out on #BB11.

— COLORS (@ColorsTV) December 21, 2017
1. Shilpa Shinde too became a contender for captaincy after Arshi on Vikas's suggestions did not throw her egg in the pool. Luv too became a contender. Akash made fun of Vikas Gupta and Arshi Khan. At night, Hina and Luv talked about how Priyank is getting too close to Vikas and is alse talking so friendly with Arshi who had nominated him just a week before.
ALSO READ: Bigg Boss 11: Salman Khan refuses the show's extension; know when the finale will take place
.@lostboy54 gets all dressed up as @eyehinakhan and the others make fun of him! Keep watching #BB11. pic.twitter.com/k4QeaMb0AW

— COLORS (@ColorsTV) December 21, 2017
2. Priyank, Hina and Luv are seen talking about how theor friendship is changing where Priyank explained that since Vikas was getting emotional, he had to be with him.In the meanwhile, Viaks came out all dressed up to which Hina Khan made fun of and said that he is looking like an interview candidate and it seems as if a girl is coming to see him. Vikas gets offended by Hina's comments but she doesn't stop.
.@ipriyanksharmaa and @eyehinakhan get into a fight! Who knew that could happen? Tune in to #BB11 and see what happens next! pic.twitter.com/Wd67OBYR5b

— COLORS (@ColorsTV) December 21, 2017
3. Priyank tried to stop her and said that since she is his friend he is doing that but Hina kept on shouting at him that irritated him and he left the place and went to console Vikas in the bathroom who was crying since Hina's words had hurted him a lot. Arshi too supported Vikas and said that she will take a revenge from Hina.
The housemates select @lostboy54, Akash Dadlani & Arshi Khan for the Kaal Kothari! Tune in to the masti now! #BB11

— COLORS (@ColorsTV) December 21, 2017
4. The contestants had to decide the names of contestants for the kaal kothari and at the end the names that got finalized were those of Vikas, Akash and Arshi.
Akash Dadlani provokes @lostboy54 with his antics. Come back tomorrow to find out how @lostboy54 will react! #BB11

— COLORS (@ColorsTV) December 21, 2017
5. Akash called Vikas a 'ghada' or a donkey and called Arshi a 'Jallu Begum' and started to rap in the jail. In the preview episode, it was shown that Vikas and Akash will push each other in the jail.
ALSO READ: Bigg Boss 11: This is what happened when Arshi Khan's father found a packet of condom in her wardrobe
For more news related to Bigg Boss 11, stay tuned!