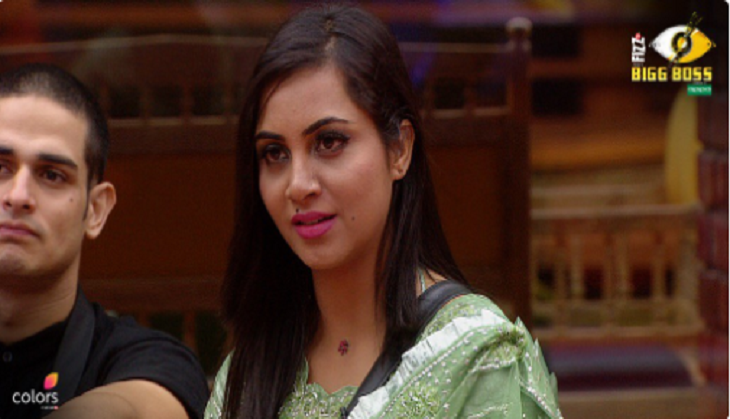 The popular reality show Bigg Boss season 11 saw the beginning of a new week and with a new week comes new names for the nomination and in the last night's episode too nomination process took place in which the at present captain of the house Arshi Khan was given a special power through which she can nominate the person she want to and at the end of the game she chose Shilpa Shinde, Hiten tejwani, Luv Tyagi and Priyank Sharma and they got nominated.
For those who missed the dramatic last night's episode here are the highlights in the form of 5 catch points that will aware you about the latest happenings.
ALSO READ: Bigg Boss 11: Priyank Sharma's ex-Divya Aggarwal to enter as a wild card contestant
Check them out:
The Housemates Puneesh Sharma & Shilpa Shinde seem to be pleased with this khulaasa. Tune in to all the drama on #BB11!

— COLORS (@ColorsTV) December 11, 2017
1. Vikas tried to explain to Hiten that he had committed a mistake by not letting Arshi know that he has voted for Shilpa and not for her. Puneesh too had a talk with Shilpa about the same where she said that Hiten should take a stand and should stay away from playing sich kind of games.
.@eyehinakhan, @ipriyanksharmaa & Luv Tyagi seem to be in a pickle. Will they patch up? Watch all the hungama on #BB11! pic.twitter.com/4vXfDyBXE6

— COLORS (@ColorsTV) December 11, 2017
2. Hina tried to explain things to Luv but this time he remained stern in his opinion and did not listened to her however he was seen talking to the camera saying that he is just being overdramatic and will soon talk to his friends. He wrote a letter to Hina asking her to get well soon. Later Priyank while talking to Hina said that Luv had a soft corner for her in his heart. She apologized to Luv but he did not listened which made Hina sad and she started crying after which Luv started talking to them. Later, a fight took place between the two boys which really made Hina irritated.
The housemates are divided into the Red team and the Blue team. Find out what's going to happen next, only on #BB11! pic.twitter.com/kCJHVp0LuY

— COLORS (@ColorsTV) December 11, 2017
3. The nominations task takes place in which a task was given by the Bigg Boss and it was Arshi who had to decide who will gte nominated for the week and she chose Shilpa, Luv, Hiten and Priyank.
ALSO READ: After Bigg Boss, Sapna Choudhary to work with this star in Bollywood film
Shilpa Shinde has an issue with someone's touch. Will she confront him? Find out on #BB11!

— COLORS (@ColorsTV) December 11, 2017
4. Shilpa told Hiten, Puneesh and Luv that she is really irritated with Akash and his way of touching her and she does not feel comfortable at all after which Luv tried to explain to Akash that he should stop doing the same since Shilpa is not feeling good about his way of touching.
Arshi Khan, Puneesh Sharma & Akash Dadlani discuss their strategies in the House. Find out who they're talking about on #BB11!

— COLORS (@ColorsTV) December 11, 2017
5. During the night, Puneesh, Arshi and Akash were seen discussing things together where Akash said that he wants Shilpa out of the game and Puneesh later went to Shilpa to tell her the same. Akash, later went to Shilpa and said that she could have told him not to touch her again and now his image in the game is being spoilt.
ALSO READ: Bigg Boss 11: Hina Khan's boyfriend Rocky Jaiswal opens up about their marriage plan and the real reason why he proposed her on the show
For more news related to Bigg Boss 11, stay tuned!