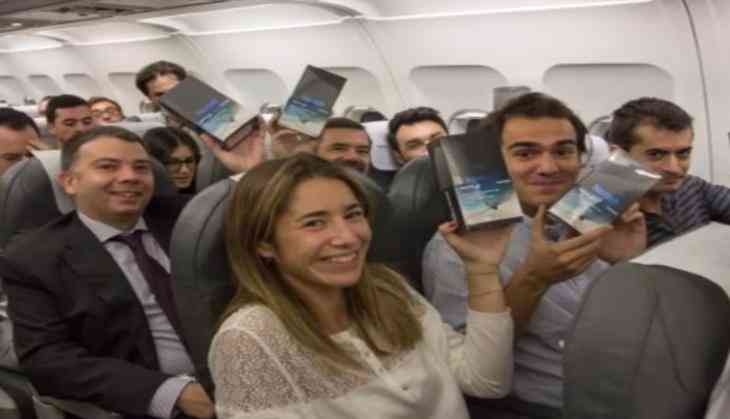 Samsung is one of the top brands among all the mobile companies. Samsung mobile phone is the first choice of many customers.
Customers keep their eyes on the launch of the latest mobile phones and when it comes to their favourite brands, customers are always ready to spend money on it. Recently, Samsung has launched its Galaxy Note 8 in September with the cost of Rs 67,900 in India.
If you are a Samsung lover, then we are here to help you in buying the Galaxy Note 8 free of cost. Yes, you read it right.
Samsung is going to gift Galaxy Note 8 to those people who are travel via plane. This interesting news has come from Spain, where Samsung has gifted Galaxy Note 8 to 200 passengers in a plane.
According to the reports, it was a promotional event of Samsung that was organised by the company a few days ago in Spain. Samsung carried the event in partnership with Iberia airlines in Spain. It was good for those people who were on the Iberian flight between Madrid and A Coruna.
Well, those, who got the gift from the company, are extremely happy as Samsung amused them by gifting the latest technology phone free of cost. Surprised people questioned that why Samsung was giving away such costly phone? Well, the answer for the same is simple. Earlier, the Galaxy Note 7 battery, reportedly, burst in plane just because passengers were charging their phone. Following the reports of blast, Galaxy Note 7 was banned in flights as it could result is dangerous situations.
Now, company wants to build their trust with the customers, especially people who are frequent use airlplanes as their travelling mode. But it's not necessary to expect that everyone will get such costly gift from the company. Samsung is only trying to improve the image by doing this act as what had happened with Galaxy Note 7.
It is expected that the company will carry the promotional event once again and it may target some other country this time.
Well, you never know what you may receive when you fly next time.