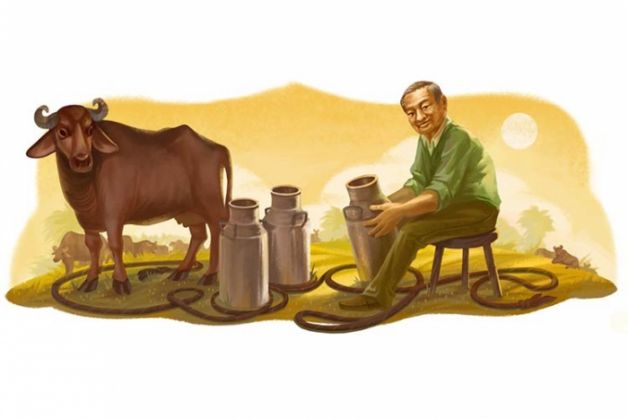 Google is celebrating the 94th birth anniversary of Verghese Kurien, also known as the 'milkman' of India with a doodle.
The doodle shows him holding a milk can while a buffalo looks on. The rope on the ground spells the word 'Google'.
Kurien brough the white revolution in India or simply, milk revolution and made the ordinary 'doodhwala' a key player in the economic development of the country and progress at the grassroot level.
Born on November 26, 1921 in Kozhikode, Kerala, Kurien graduated from Loyola College in 1940 and went on to complete his engineering from Guindy College of Engineering, Chennai. After a brief stint at TICSO, Kurien obtained the government of India scholarship to study dairy engineering.
Kurien founded 30 institutes of excellence including Amul, IRMA and NDDB. As the founding chairman of Gujarat Co-operative Milk Marketing Federation (GCMMF), Kurien was the foremost player in the creation of Amul brand of dairy products and is credited with its success.