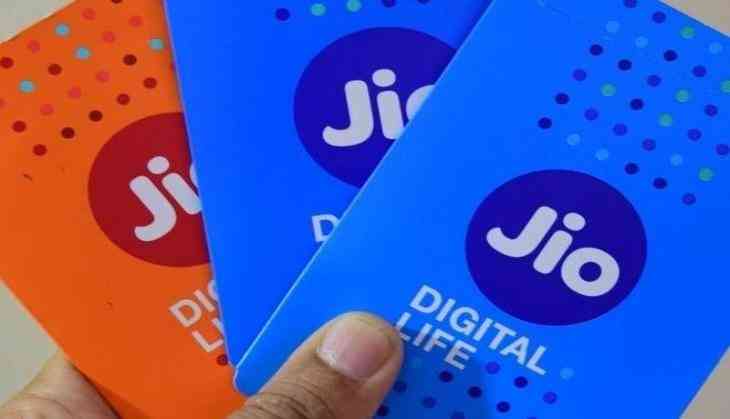 1.5 GB data Packs
Jio is offering four plans in this category in Rs 399, Rs 149, Rs 349 and Rs 449. All the four plans are giving same data limit but with different validity. Users can choose according to their requirement from data limit to validity.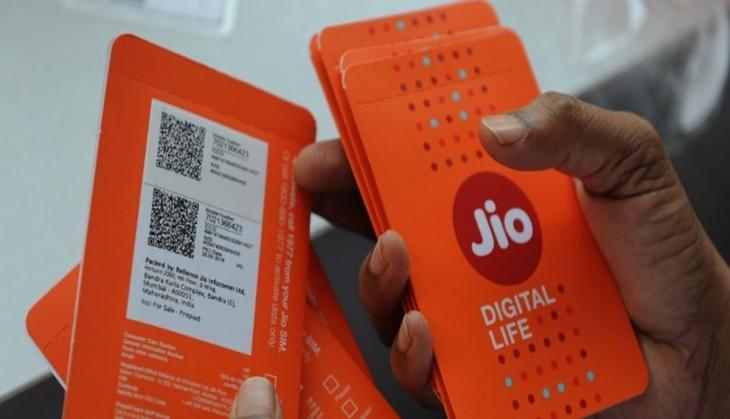 Cricket Pack
This pack was launched specially for IPL season in Rs 251, which comes with a validity of 51 days equivalent to days of IPL season. This pack provided 2 GB per day data limit for live streaming of IPL matches and collectively gives 102 GB data within 51 days of validity.
Sachet packs
This plan can be availed for the limited usage, this category has two packs in Rs 19 and Rs 52. The Rs 19 plan provides 0.15 GB data for 1 day whereas Rs 52 pack gives 1.05 GB data for 7 days.
Most Affordable plan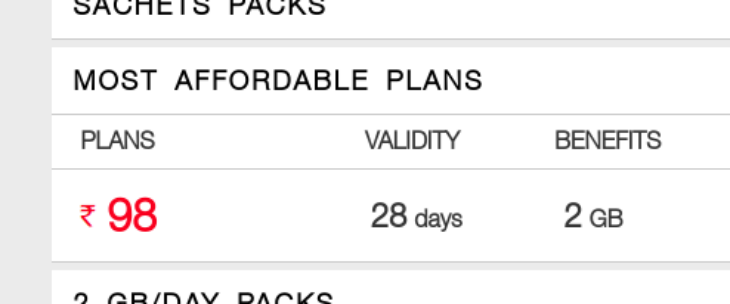 The most affordable plan of Reliance Jio is of Rs 98, It gives the validity of 28 days with 2 GB data along with 300 free SMSes.
2GB/day data pack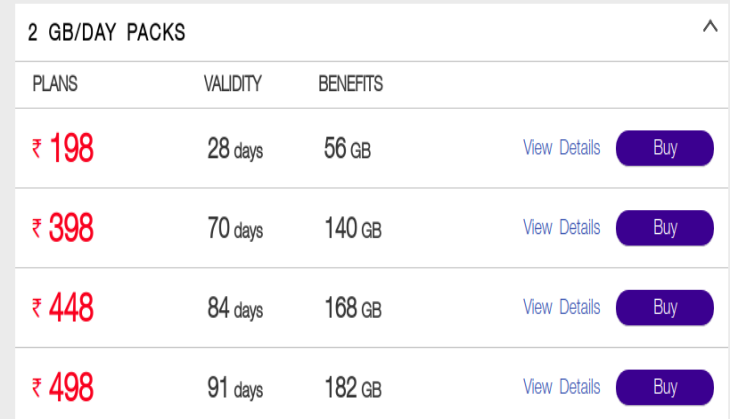 This category serves to the heavy users and offers four plans of Rs 198, Rs 398, Rs 448 and Rs 498. This category offers data from 182 GB to 56 GB with set 2 GB/day data limit.
3 GB/day Data Packs
This plan is for the users who have very high usage, it has Rs 299 plan with the validity of 28 days and total 84 GB data.
4 GB/day data
This usage limit has Rs 509 plan which comes with the 112 GB data for 28 days.
5 GB/day data
This plan gives whopping 5 GB per day data limit which comes with total 140GB data for 28 days.
Also read: Planning to buy a bike! top 10 bikes of 2018 in India with classic style and speed under 1 Lakh