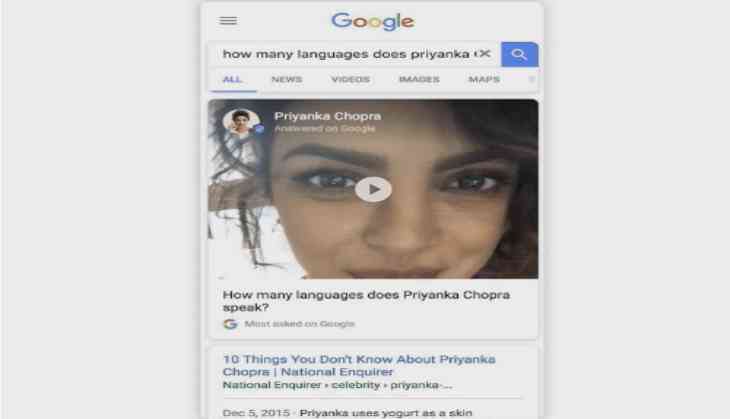 The most celebrated international star of India Priyanka Chopra is looking for the global dominance with her performance in the Hollywood. It was just yesterday when PeeCee had created a buzz in the international media when she was seen in the Oscar 2018 trailer.
Now here is some great news for the fans of Megastar of India Priyanka Chopra, the tech-giant Google is set to launch a new feature that will change millions of lives. The new feature of the search engine will let the actual truth come on the table with the most searched question from the modern days' superstar like Priyanka Chopra, Nick Jonas, Mark Wahlberg, Gina Rodriguez and Will Ferrell.
If you are a fan of 'Bajirao Mastani' fame, then you must have thought, what is Priyanka's favourite food, what does she like to eat as the cheat food, who is Priyanka's celebrity crush or who is the most talented actor according to Miss Chopra either in Hollywood or Bollywood. Well if these questions are giving you sleepless nights, then here is the good news for you. The search engine Google is rolling its new feature with the help of which PeeCee can tell you about her celebrity lifestyle.
Also Read: 5 times when Priyanka Chopra shut down 'American media'
On work-front, the global desi girl of India is marking her footsteps in the Hollywood with her performance in the third installment of the ABC hit Quantico. Priyanka Chopra made her Hollywood debut with the popular franchise Baywatch in which she was seen portraying the character of a glamorous villain Victoria.
But first, a video selfie—on Google! You can now find video-recorded answers in mobile Search results from your favorite personalities like @priyankachopra, @nickjonas and more → https://t.co/J901bfeV0n pic.twitter.com/Au3kqzRpD8

— Google (@Google) December 7, 2017