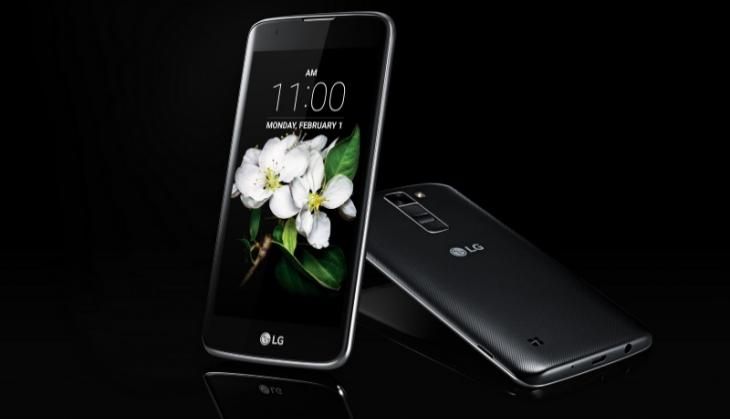 LG Electronics India on 14 April announced the launch of K7 and K10, the first smartphones from the company to be manufactured in India. The move reiterates the company's long term commitment to India and its customers in the country.
The K-Series smartphones will be the first to offer LG's glossy pebble design, a contemporary, stylish look with a curved, modern finish aimed at a younger audience. The glossy pebble design is complemented by LG's new 2.5D Arc Glass for a smooth and seamless style made possible due to the sides of K-series smartphones being free of button clutter.
The back cover features an intricate woven pattern for optimal grip. K-series boasts a larger screen to display images and videos captured with the 13MP rear camera and an 8MP camera on the front in a smartphone in this category.
Featuring LG's popular Gesture Shot and Gesture Interval Shot, taking selfies is easy and hassle-free. Gesture Shot enables users to take photos simply by raising an open hand in front of the lens and then clenching it into a fist. Closing one's hand twice automatically leads to the Gesture Interval Shot and will produce four consecutive photos. 
Both devices are equipped with flash for selfie in the front to help users capture priceless moments whenever and wherever the need might arise, even in the dark.
K7 specifications:
Display: 5.0-inch In-cell Touch
Chipset : Qualcomm Snapdragon
Camera: Rear 5MP / Front 5MP
Memory: RAM: 1.5 GB, ROM:  8 GB
Battery: 2,125mAh
Operating System: Android 5.1 Lollipop
Size : 142.7 x 72.6 x 8.6mm
Network: 4G LTE + VoLTE, VoWi-Fi / 3G / 2G
Colors: Titan / Gold / White
Others: 2.5D Arc Glass / Gesture Shot / Gesture Interval Shot / Tap and Shot
Price: Rs 9,500
K10 specifications
Chipset: Qualcomm Snapdragon
Camera: Rear 13MP / Front 8MP
Memory: RAM: 2 GB, ROM: 16 GB
Battery: 2,300mAh
Operating System: Android 5.1 Lollipop
Size: 144.7 x 73.6 x 8.7mm
Network: 4G LTE + VoLTE, VoWi-Fi / 3G / 2G
Colours: White / Indigo / Gold
Others: 2.5D Arc Glass / Gesture Shot / Tap and Shot / Gesture Interval Shot
Price: 13500