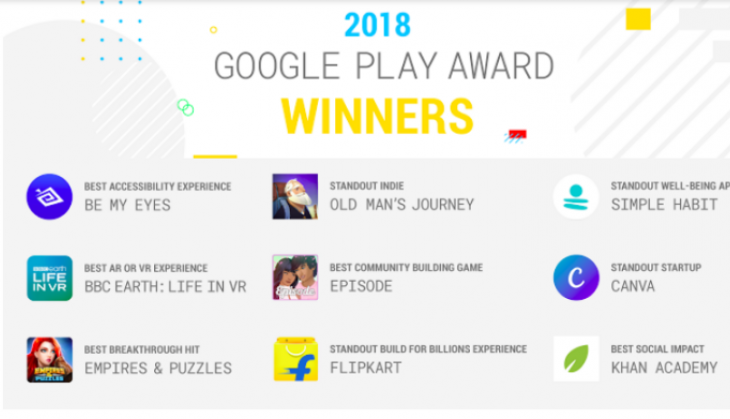 Google has released a list of award for Best apps in 2018 in different categories on Google play store. Google annual developer conference is the stage when every year Google deliver the awards for best app. This is the third instalment of awards in Google I/O. Apps were selected on the basis of their user experience and its impact on a social level.
Google awarded app in the different category such as app name 'Simple Habit' received the award in 'Stand out well-being App' category. "empowering people to live the best version of their lives, while demonstrating responsible design and engagement strategies". This app provides tips to improve the lifestyle and how to do meditation to relax from stress and improve your mental health as well.
Here is the list of Google Best apps in 2018
BE MY EYES
Category- Best Accessibility experience
This app help's visually impaired people in day to day activities.

OLD MAN'S JOURNEY
Category- Standout Indie
This is a unique game which allows users to experience life as an old man by taking a journey.
SIMPLE HABIT
Category- Standout Well-being App
This app helps to maintain a healthy body and healthy mind.
BBC EARTH: LIFE IN VR
Category- Best AR OR VR Experience
This app lets you experience the world through AR or VR technology.
EPISODE
Category- Best community building game
It's a game which allows users to experience the life in simulation
CANVA
Category- Standout startup
This is an editing help but a useful guide and helping tool for Graphic designers.
EMPIRES & PUZZLES
Category- Best breakthrough Hit
This game awarded for the good user interface, user experience, retention and excellent organic growth.
FLIPKART
Category-Standout build for billions experience
The India e-commerce platform also made on the list.
KHAN ACADEMY
Category- Best social impact
This app provides video tutorials in subjects like History, Economics, Science, Maths etc.
Also read: Looking for a car, Here are the top 10 popular cars in India in 2018 with details of available discount on them in May