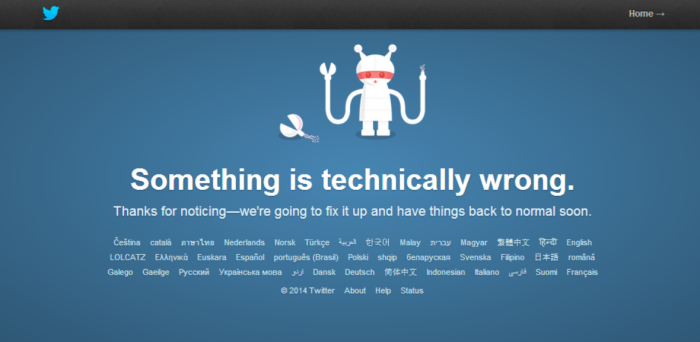 Twitter was unavailable for users worldwide, with the site apparently suffering total outage.
"Some users are currently experiencing problems accessing Twitter. We are aware of the issue and are working towards a resolution," the official twitter support handle tweeted.
Access to the service began failing over the web, mobile and its API (application programming interface, the system that applications use to speak to the Twitter service) at 8:20am GMT, with error messages warning the network is both "over capacity" and suffering an "internal error".
Social network has been suffering an ongoing outage across all platforms since 8:20am GMT.
#TwitterDown is among the top trends. Take a look at how Twitter reacted:
For lack of a better word, Twitter is "broken."

- Matt (@mathaiaus) January 19, 2016
Twitter tripping so she might be forced to text you back

- Leroy X (@NoWomanIsRight) January 19, 2016
Why Twitter is behaving like a Girl Friend? Totally Confused, Absurd, irritating and hopeless. #LogOut

- Chicken Biryani (@ChickenBiryanii) January 19, 2016
Was it just me or did anyone else suddenly have Twitter problems during #redeye?

- Kevin (@The_Alien) January 19, 2016
Why are you misbehaving dear twitter? Don't do this at the time of my work.

- Nupur (@chatpatidiary) January 19, 2016
I'm embarrassed with how much a Twitter bug affected my life.

- Davis (@HitchARiide) January 19, 2016