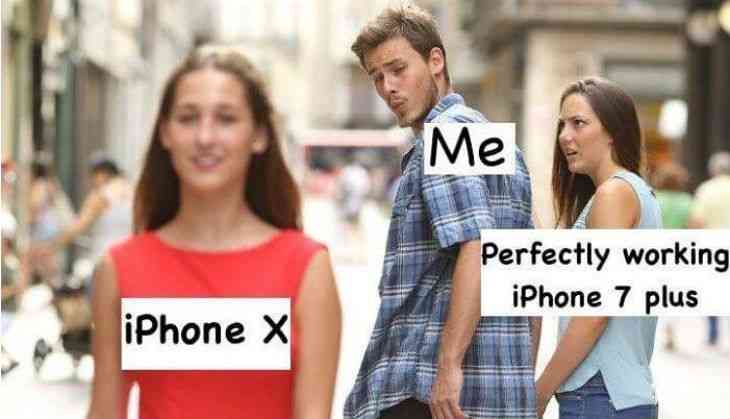 The wait is finally over as the new iPhones - iPhone 8 and iPhone 8 plus and iPhone X - have been launched along with Apple TV, Apple Watch 3 and other hardware products.
The launch event took place on 12 September at the Steve Jobs theatre for the very first time.
The Cupertino-based tech giant announced iPhone X, the future of the smartphone, in a gorgeous all-glass design with a beautiful 5.8-inch Super Retina display, A11 Bionic chip, wireless charging and an improved rear camera with dual optical image stabilization. The iPhone X celebrates the 10th anniversary of Apple's smartphone.
It seems like the Twitter parade was already set to launch the jokes as soon as the event took place. These jokes will surely tickle your funny bone.
Here are some of the best Twitter jokes:
Choose a payment method for iPhone X and IPhone 8 #AppleEvent #iPhone8 #iPhoneX pic.twitter.com/7p8OldrUoO

— Farhan Ahmed (@CEOSolispo) September 13, 2017
Girls trying to unlock their significant others iPhone #iPhone8 #iPhoneX pic.twitter.com/fSBCeCv0fX

— Stephanie (@hell0steph_) September 12, 2017
Beyoncé: *uses iPhone X facial recognition*

iPhone: #AppleEvent2017 #iPhone #iPhoneXEdition #iPhoneX #iPhone8 #Beyoncé pic.twitter.com/LYlSyc0paF

— D.va✌🏼💓 (@UnofficialDva) September 12, 2017
Reactions After Watching #AppleEvent.#iPhone8 #iPhoneX iPhone 8 iPhone X #AppleWatch pic.twitter.com/1W73Lkfqc9

— Sir Ravindra Jadeja (@SirJadeja) September 12, 2017
Yeh jo log 16 GB iPhone lete hain,
Inka budget Android ka hi hota hai.
Bas society ke pressure mein Apple kharid lete hein. 😝

— Rishika (@aadiivaasii) September 12, 2017
What Indians expect form #iPhone8 pic.twitter.com/iGxmZ2S8Gg

— Killer Features (@killerfeatures) September 12, 2017
When you see the price tag on the #iPhone8 #AppleEvent pic.twitter.com/1ql6bNPgCV

— Kevin (@kevinfigman) September 12, 2017
#AppleiPhone8 #AppleEvent #AppleEvent2017 #iPhoneX #iPhone8 #Apple

Interesting.... pic.twitter.com/1oTNIjQCJa

— Deepak Lahari (@DeepakLahari) September 12, 2017
When a bandruh girl spots a guy using #iPhone8 pic.twitter.com/KHDyAMc37r

— Engineered🐒 (@thebtechguy) September 12, 2017
Today Apple will announcing a new iPhone. Well people with an iPhone 7, now you do not have the best iPhone ever. #AppleEvent #iphone8 pic.twitter.com/tWyEVD89wq

— Stan Krasnykh (@stankrasnykh) September 12, 2017