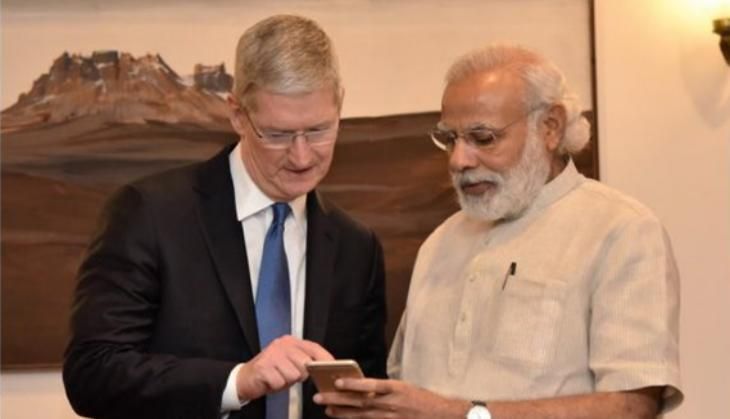 On the last leg of his India tour, Apple CEO Tim Cook met Prime Minister Narendra Modi at his 7, Race Course Road residence.
During their meeting in New Delhi on 21 May, the two launched an updated version of the 'Narendra Modi mobile app'.
The new and improved app reportedly includes a new volunteering service.
Thank you @tim_cook! Friends, welcome & happy volunteering. Your views & efforts are always enriching. pic.twitter.com/aAu4isv6wM

— Narendra Modi (@narendramodi) May 21, 2016
Modi tweeted a picture where the Apple CEO and the PM are seen operating Modi's Gold iPhone.
I am delighted to share that Mr. Tim Cook launched an updated version of the 'Narendra Modi Mobile App'. Thank you Mr. Cook. This updated version contains a new volunteering network on the App," the Prime Minister tweeted.
Calling on the citizens to take at look at the new features called 'my network' in the app, he said that it empowers people to contribute on 'lively and enriching forums' where they can share their ideas and deliberate with others.
Tim Cook, who landed in India this week, said the company would establish a Design and Development Accelerator in Bengaluru, the home of India's startup scene.