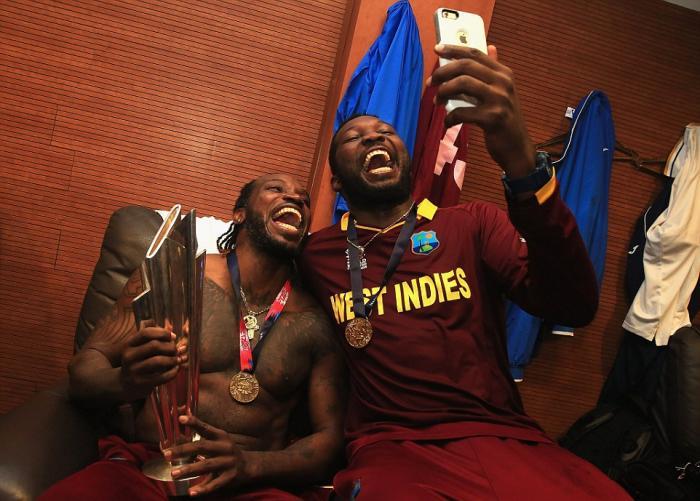 West Indies' victory in the final of the ICC World T20 was nothing short of thrilling. After looking like the team was not going to get over the line with 19 runs needed off the last over, Carlos Brathwaite played the cameo of his life to launch the ball over the boundary ropes for 4 sixes in succession.
Pandemonium followed on the field, with the players rushing on to the pitch to celebrate with Brathwaite and Marlon Samuels. The West Indies women's team players joined the party too, after winning the World T20 title earlier in the day themselves!
The reactions on social media were as spontaneous as those on the field by the players. Here is what Twitter was buzzing with after West Indies' spectacular victory.
Last over mystery solved !#WT20Final . pic.twitter.com/6Qrl1H7ELG

- PhD in Bakchodi !! (@Atheist_Krishna) April 3, 2016
All jokes a part but this is true.Felling sad for him. #WT20Final pic.twitter.com/HeoHBTc4Ok

- Affan Idrees PTI (@AffanIdreesPTI) April 3, 2016
Emotional, powerful statement from @darrensammy88. Never seen anything like that on a victory podium. It must hurt very deeply.

- Harsha Bhogle (@bhogleharsha) April 3, 2016
Everybody knows Bravo is a championSamuels is a championBrathwaite is ChampionDon't forgetGayle, Sammy a championBadree a champion

- Cricketopia.com (@Cricketopia) April 3, 2016
30 lakh base price. 1 cr premium for every six in the last over of a World Cup final . Daredevils still saved 10 lakhs on Brathwaite ;) #IPL

- Gaurav Kapur (@gauravkapur) April 3, 2016
2 minute silence for hotel housekeeping staff who'll be cleaning the West Indian players room tomorrow morning.

- Trendulkar (@Trendulkar) April 3, 2016
Tum Kitne Gayle Out Karoge, Har Batsman Gayle Niklega. ;) #WT20Final #DilSay #WT20 #ENGvWI #WIvsEng

- Sir Ravindra Jadeja (@SirJadeja) April 3, 2016
Eden u made Bengal proud today ...proud of u ..proud of the supporters ..cricket amazing because of ur support pic.twitter.com/V7KS6E1Fqm

- Sourav Ganguly (@SGanguly99) April 3, 2016
That charge from the dugout? That's the fastest anyone has seen Gayle run in some time.

- Prem Panicker (@prempanicker) April 3, 2016
Stop blaming the bowlers, especially Stokes.Not their fault. Brathwaite just seized his moment to be a hero. Sport at its very best.

- Piers Morgan (@piersmorgan) April 3, 2016