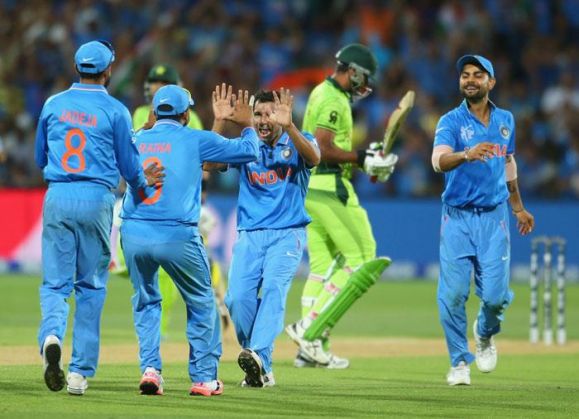 After losing in the opening game of the ICC World T20, India is set to fight its survival battle against the arch-rivals Pakistan at Kolkata's Eden Gardens at 7PM today.
As is the case with most India Pakistan clashes, this game too has already seen its share of drama.
The match was originally scheduled to be held in Dharamsala but was shifted to Kolkata after the Himachal Pradesh government expressed their inability to provide security to the Pakistan team - owing to protests by ex-servicemen and their families.
Next came the delay in Pakistan's arrival due to security concerns. But the side eventually agreed to make the trip after repeated assurances from the BCCI.
Political undercurrents aside, the game assumes immense significance for Mahendra Singh Dhoni's men after the opening loss to New Zealand.
As for the rivalry, India may not have lost against Pakistan in a world tournament yet and Pakistan may not have lost to India in limited overs in their last four clashes at Eden Gardens yet. But there is always a first time.
In the T20s head-to-head, India have a 4-0 win-loss record against Pakistan from five matches with one being washed-out.
Pakistan have lost to India six times in the ODI World Cup, and they have carried the jinx into the World Twenty20 as well, having lost thrice in 2007, in 2012 and in 2014.
India may be playing in their backyard but it is the Pakistani team who have a reason to be confident, given their clean 4-0 win-loss record in the limited overs at the Kolkata venue. The Pakistan team is buoyed by the comprehensive win over Bangladesh in the tournament-opener.
Dubbed the most unpredictable team in the world for a good reason, Pakistan tend to wilt under pressure every time they face India in an ICC world event.
Given these facts, India do have the edge on paper and the team's under-fire batsmen will look redeem themselves after their capitulation against the Kiwis while chasing a modest 127 on a notorious Jamtha turner.
However, Pakistan did a splendid job in brushing aside the off-field furore which was triggered by skipper Shahid Afridi's comments that his players get more love in India than in Pakistan. The neighbouring country have slapped Afridi with a legal notice - adding to the woes of the 2009 champions who were already short on match practice and suffered an early elimination in the recently-concluded Asia Cup. But Afridi led by example with a 19-ball 49 and followed it up with his 2/27 in their huge 55-run win over Bangladesh.
Pakistani batting also roared back to form with half-centuries from Mohammad Hafeez and Ahmed Shehzad who added 95 runs from 68 balls to lay the foundation before Afridi sizzled at the Eden Gardens.
With their campaign on track, it remains to be seen whether Pakistan would be able to overcome the mental block of beating India in a world tournament.
A flat pitch and buttery outfield on offer, the Indian top three of Sharma, Shikhar Dhawan and Kohli should have no trouble overcoming their nightmarish outing in Nagpur and provide India a perfect start.
Kohli, with his class and elegance, won the first round battle against Amir in Mirpur and was also at ease against Pakistan's two left-arm quicks Mohammad Irfan and Wahab Riaz.
Pakistan's spin department is spearheaded by Imad Wasim, who impressed in the warm-up against Sri Lanka with his 4/25 and the stage will be set for him to get a superstar status.
The loss to New Zealand is a setback but it should be not be forgotten that India had lost to them in their victorious campaign in 2007 World Twenty20 in South Africa.
It remains to be seen whether they make it this time too though no home team has ever won the previous five editions of the World Twenty20. Given the circumstances, it is hard to pick a favourite but the stage is perfectly set for an enthralling contest which is expected to be played to a full house.
-with inputs from PTI