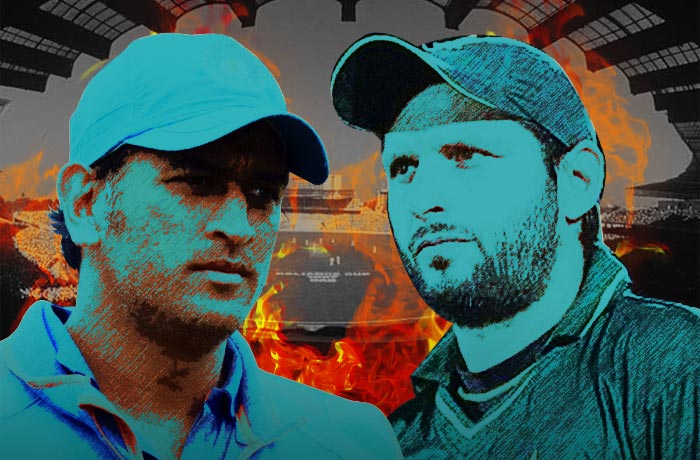 The streaks
India have won all 10 of their matches against Pakistan at ICC World Cups and World T20s
Pakistan have beaten India all four times the teams have met at Eden Gardens, Kolkata
The importance
This match is also important because the teams are in a group of death with Aus, NZ and Bangladesh
India lost badly to NZ, and need to win to realistically stay in the tournament
More in the story
Why India and Pakistan always end up in the same group in cricket tournaments
Will Afridi\'s words have any bearing on the crowd or the outcome of the game?
There's a school of thought that Pakistan's form at World Cups and outside them is chalk and cheese. In any other tournament or bilateral contest, they are hesitant and profligate. But bring on the World Cup and they're a lean, mean, fighting machine.
So naturally, rivals would love to see them in their non-World Cup shape all the time.
My take is a little different. I'd take their World Cup form every day of the week and about 11 times on a Sunday.
That's the Indian way of thinking.
Let's be honest. For us, it is World Cup be damned till we are done and dusted with the Pakistan match. To the extent that all would be forgiven if India beat Pakistan but didn't win the Cup.
Read- World T20: India not allowing Pak officials to watch matches, alleges Islamabad
So it is imperative that our neighbours are defeated on Saturday. And since we've done this 10 times in all World Cups, that's the form we want!
But our lovely politicians have managed to bowl a little googly to us all, which has made this math that much more intriguing.
Streak vs streak
With the state government in Himachal Pradesh making sure that Pakistan wouldn't be seen at Dharamsala, the match was shifted to Kolkata.
Now, if Pakistan ever were asked which city would be their home in India, they'd opt for Kolkata without a moment's hesitation.
This is a city that has welcomed Pakistan like few others have. In terms of sheer fan following, Eden Gardens has been as good as it gets for them.
India have 10 wins out of 10 in World Cups vs Pak. Pak are 4/4 against India at Eden Gardens
Then, of course, there are the statistics. Four limited-overs matches between India and Pakistan here, four wins for Pakistan.
Nice! It is streak versus streak - 10/10 playing 4/4; World Cup versus favourite venue; 50-over versus 20 overs. Couldn't get any better, could it?
All eggs in one basket
All the stats apart, both sides need to look at how things are panning out in elsewhere.
The International Cricket Council, with a very enthusiastic little prod from the BCCI, has decided to put all the mean eggs in the same basket.
So we have India, Pakistan, New Zealand, Australia and Bangladesh, all in the same group. And if anyone suggests it was a coincidence, they have surely been following the wrong game.
Also read: World T20 be damned, politicking is still DDCA administrators' priority
So ICC (and BCCI) always pit India and Pakistan in the same group, be it age-group level cricket, 50-over, 20-over, men's, women's - wherever possible. And then we lament fixing in cricket!
So what that does is, it makes the India-Pakistan game not just a crunch game if you want to win the World Cup, it also becomes a crunch match whether you even qualify for the knockout stage or not!
The Afridi undercurrent
It would have been a little easier if there weren't additional undercurrents in this whole drama.
We have good old Shahid Afridi (if we're allowed to call him old, that is), who made a major boo-boo in his very first pre-arrival media briefing.
Now, what Lala (as he is fondly known, unless he does a media briefing first) meant was that there were times when he was not targeted for abuse in India, like he was in Pakistan.
How is it that India and Pakistan always end up in the same group at every level of cricket?
Pretty understandable after the Asia Cup, where Lala first went and very nonchalantly told everyone that there was no pressure. Then he and his boys lost by a country mile to India.
Then he did the nonchalant thing again. He and his boys lost to Bangladesh.
If Afridi thought he'd be welcomed home with open arms after a diet of nonchalance and non-performance, well he must really be 16.
Anyway, the man was just letting off steam about how badly they treated him back home. Boy, was that a mistake!
Read more- ICC World T20: Top 5 cricketers and their quirky superstitions
So, to alleviate, Afridi had to put his head down and make sure his side didn't lose to Bangladesh twice in two games.
What we got was one of the best from him in a long time. This knock, apart from calming the nerves of the team, also made the folks back home a little happier.
But none of all this really makes a difference if the India match isn't won.
The mega powers collide
There is a school of thought that India always play one bad match in every World Cup, while Pakistan have one outstanding game.
All Indian fans are hoping that the first game of the group stage, where the home boys failed so badly against New Zealand, was that glitch, and things will be fine now.
The Eden game will be practically a home match for both teams. Pakistan have a formidable record there, while India don't lose to Pakistan in World Cups.
Irresistible force against immovable object? We will know by Saturday evening.
Edited by Shreyas Sharma
More in Catch:
No credible evidence: Umar Khalid, Anirban Bhattacharya get interim bail
These sketches tell us one thing: Donald Trump was born to be a cartoon
Vyapam whistle-blower Anand Rai resigns from MP govt, alleging harassment
Kapoor and Sons movie review: giant cinematic leap for modern Indian families