Will Asia's perennial underachievers break free this World Cup in Russia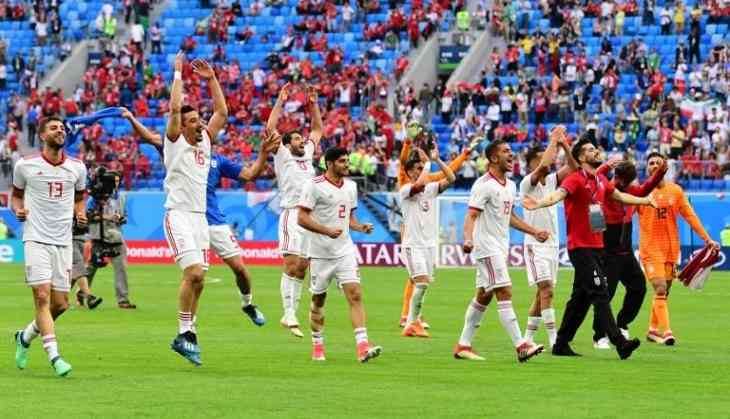 At the Luzhniki Stadium in Moscow Thursday afternoon Saudi Arabia collapsed to the wrath of hosts Russia in the opening match of this year's FIFA World Cup. It was clear that Saudi Arabia does not have the greatest footballing prowess or skill. While the passion for the sport is extremely high, in the country and West Asia, it does not translate to results on the big stage. Their Argentinian coach Juan Antonio Pizzi tried a style of football that requires keen practice. They were forced to pay the price for high risk. However, the price was more than just a thumping, it was the shame.
Soon after the match, Pizzi made it clear that he wanted to "forget the feeling of shame and think about the next match", and the opening match really gave an insight into how far behind most Asian nations have gone in comparison to the rest of the world. Russia aren't world beaters, nor are they a team of superstars. Together with Saudi Arabia, it is one of the lowest-ranked teams at the tournament and although FIFA rankings aren't the greatest precedent to describe how good or bad a country is at football, it gives a basic insight.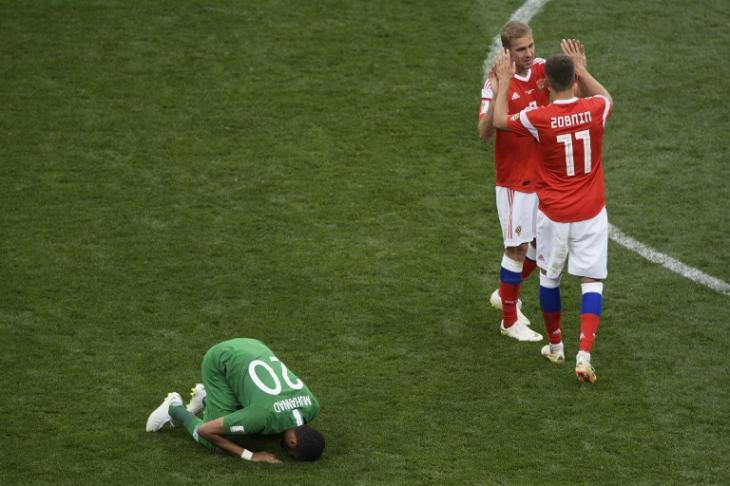 Russia celebrate after scoring a goal against Asian rivals Saudi Arabia (Juan Mabromata/AFP)
Iran the best hope for Asia?
Just a day later, Iran overcame Morocco, in a rather meagre match that was settled by a late own-goal. A day after that, Australia were harshly outdone by France, courtesy a VAR-influenced French goal from the penalty spot and a late goal by Paul Pogba, which was heavily assisted by an Aussie deflection. The early days of the tournament have raised mixed opinions about the Asian chances at the World Cup. Yes, South Korea and Japan are still to play, but there doesn't seem to be much hope for the Asian countries.
The biggest winners from the early days of this year's World Cup, Iran, don't have much optimism to make it through a group containing a hassled, albeit fantastic Spain side as well as the European champions Portugal, for whom Cristiano Ronaldo has been in inspired form as of late. Iran got all three points from a game that seemed their best chance of securing maximum points. Beating Spain and Portugal seems like a difficult task and considering their previous history at the finals as well as the strength of their squad, it seems as though the win is the only souvenir they'll be able to take back home.
FT: MAR 🇲🇦 0 - 1 🇮🇷 IRN

Iran open their #WorldCup campaign on a high note with a victory over Morocco! pic.twitter.com/04V0H5Iu2m

— AFC (@theafcdotcom) June 15, 2018
Australia, meanwhile, can take great confidence from their showing against France, but their hopes of progression can be halted completely by the next time they take the field. Seeing as Denmark got the better of Peru in the other encounter in Group C, they have to avoid defeat against the Christian Eriksen-led team and wish Peru get something from their clash with France to avoid being sent home. Should France and Denmark both get wins, it will spell the end for the Asian and South American nations as their desire of progression to the next round will be mathematically proven to be impossible.
Nobody expects anything from Saudi Arabia
As for Saudi Arabia, the 5-0 defeat to the hosts carved great ridicule and embarrassment. Sports Minister Turki Al Shaikh singled out individuals and imposed punishments on some members of the team that played that game. Those claims were, however, refuted by the Saudi Arabia Football Federation, but the expectation of the world's biggest oil exporter performing any better throughout the tournament is low. The performance against Russia started with optimism and later went to disinterest as they kept on shipping the goals and it will take a mammoth effort to stop a young, motivated Uruguay side as well as returning Mohamed Salah in the upcoming matches of Group A.
The best hopes lie in complicated groups
That leaves South Korea and Japan, who, arguably among Asia's best, who have both been put in extremely complicated groups. South Korea are alongside North America's finest in Mexico, UEFA's perennial bogey team Sweden and world champions Germany.
The Mexicans shocked world champions Germany in their opening Group F match. Still, given that the Germans are certain to progress, South Korea will have to put in an incredible effort to progress, but their recent results don't look pleasing. They've won just one of their last six friendlies – a 2-0 win over Honduras in March – while losing to the likes of Poland, Bosnia and Herzegovina and Senegal amongst others.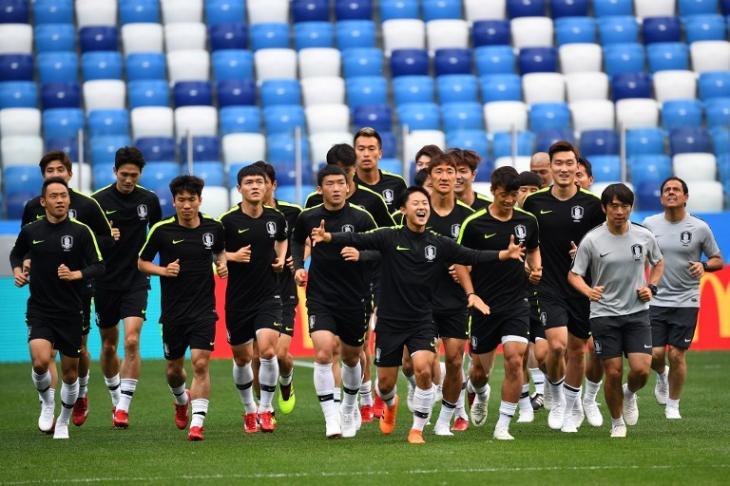 The South Korean football team during a training session (Johannes Eisele/AFP)
They have faith coming in the form of Son Heung-Min, who has had another stellar season with Tottenham Hotspur in the Premier League as well as Lee Jae-sung, who has been the K-League's best midfielder for the best part of two seasons, but that may not be enough to get them through a complex challenge such as the one they have. And with coach Shin Tae-yong constantly switching between formations and testing out new strategies in the warm-ups, which have led to frequently poor performances, there is little to suggest that they will pull off some unexpected results in Russia.
Japan, meanwhile, come up against nations that have been enjoying a renaissance on the international scene. Colombia were a refreshing side to watch at the 2014 World Cup and with arguably a better side than the one they had four years ago, it is difficult to bet against them not repeating the magic of Brazil. They faced Japan in the group stages there as well and beat them with relative ease by four goals to one. Senegal and Poland, too, enjoy great depth in their roster across all positions and with two young, vibrant squads, seeing them challenge for the second qualifying spot is more likely than Japan.
Keeping that in mind, one shouldn't discredit the Japanese. Out of all Asian nations, it could be said that Japan are the best equipped to progress. The old guard of Shinji Kagawa, Makoto Hasebe and Yuto Nagatomo step ups on the international stage and raises the ambition amongst the Asian football faithful. If they can get some sort of result against Colombia on the opening day, then their experience can come in handy against the likes of Senegal and Poland when they take them on later in the tournament.
Perennial underperformers
Early in the tournament, it seems as though all of Asia's hopes lie in Japan and South Korea's hands. The continent has gone through ages of underachievement. In 39 attempts, only seven times have Asian teams progressed beyond the group stages. Amonf them South Korea and Japan, when they hosted the tournament in 2002 along with China. The Koreans went on to achieve Asia's greatest finish in that World Cup, as they ended the tournament fourth, controversially beating the likes of Italy and Spain on their way to the quarter-finals. And in Russia, despite having five participating nations, it does not seem as though there will be more added to the seven.
From Indonesia's first participation in 1938 to the Asian exile in the late 1950s and '60s, the East Asian arrival in the '70s and the West Asian dominance in the '90s, Asia has a fine history with the World Cup, but never one that was too prominent. The likes of Park Ji-Sung, Tim Cahill and Hong Myung-Bo are all synonymous with the tournament on Asia's behalf, while foreign managers such as the Brazilian Carlos Alberto Parreira, who led three Asian sides to the World Cup – Kuwait, 1982; United Arab Emirates, 1990; Saudi Arabia 1998 – and Portuguese coach Carlos Queiroz, who has led Iran to two World Cup finals in 2014 and 2018, with Iran's win against Morocco on Friday being the first by an Asian nation since 2010.
The AFC's participant allocation will increase in the 48-team World Cup, rising from the current maximum of five to a maximum of nine in 2026 and while there are some encouraging results, they are too few and too far in between. They've always had the passion for the sport, even in the most rural of areas, and these countries deserve spots at the World Cup as the talents these nations have given to the sport have been infinite. But, from training to infrastructure, coaching to skill, there needs to be a major refurbishment of footballing culture to achieve desired results, and it doesn't seem as though it will arrive in the near future.