Kobe Bryant finishes as only he knows how: epic end to a 20-year career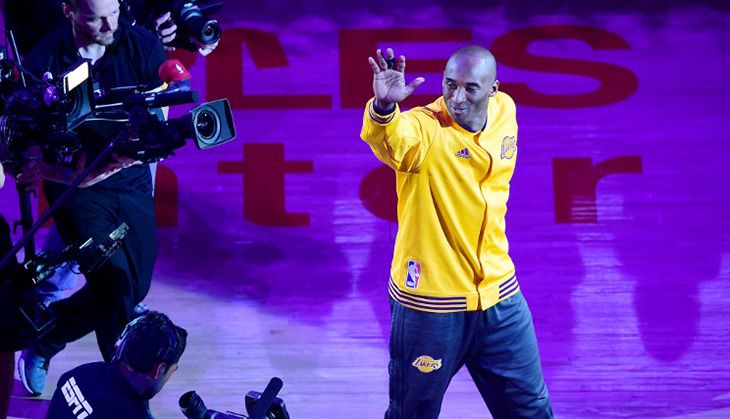 Kobe Bryant, 37, went out the way only Kobe Bryant could. A 20-year career ended with a show for the times. Bryant showed the sold-out Staples Center crowd just how good he can be with a season-high 60 points and inspiring a comeback 101-96 win for the Los Angeles Lakers over the Utah Jazz on Wednesday, 13 April.
Bryant scored 23 points in the fourth quarter, and rallied the Lakers from a 15-point deficit to win the game in the worst season ever in franchise history. "It's hard to believe it happened this way," Bryant said. "I'm still shocked about it."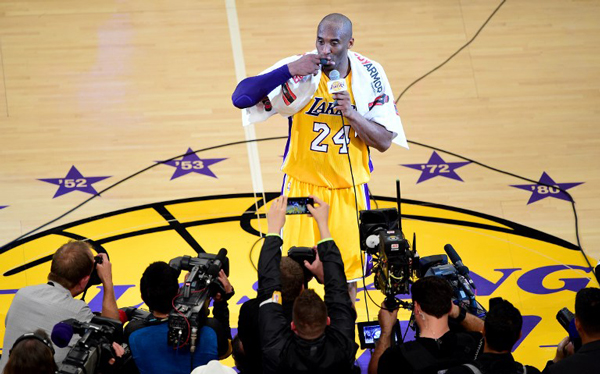 Photo: Frederic J. Brown/AFP

The day started with the record breaking Golden State Warriors ending their season with a 73-9 season, breaking Chicago Bulls' NBA record in the process. Michael Jordan's Chicago Bulls, back in the 1995-96 season, went 72-10. Twenty years later it was broken. Even with this record-breaking end to the season, nothing could topple Bryant from being the talk of the town.

"I can't believe how fast 20 years went by, man, this is crazy," Bryant, an 18-time All-Star, said after the game while addressing the crowd. "This is absolutely crazy... and to be standing at center court with you guys, my teammates behind me, appreciating the journey that we've been on -- we've been through our ups, been through our downs. I think the most important part is we all stayed together throughout."

Kobe Bryant initially was picked up by the Charlotte Hornets but a trade in that very season led him to spend his entire 20-year career with the LA Lakers.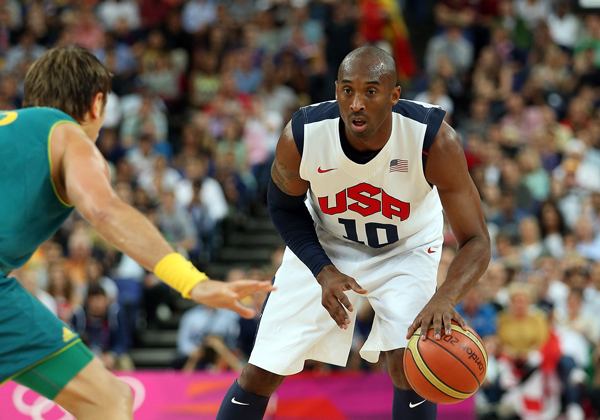 Photo: Frederic J. Brown/AFP

It may not have been a season to remember for the LA Lakers, as they ended the season 17-65 (Lakers' worst record ever), but it was a night to remember for Bryant. He attempted 50 shots during the match - most by anyone in 30 seasons - and it was also his sixth 60-point game of his illustrious career. Before the game, Bryant wanted to "just have some fun" and after the game, he was sprayed with champagne in the locker room, reminiscent of championship winning seasons.

During the game, Twitter witnessed technical issues and most people pointed towards the tweets for Kobe. #MambaDay, #MambaOut and #ThankYouKobe.
Sorry about that, everybody.
Kobe got too hot for the Twitter servers.

— Los Angeles Lakers (@Lakers) April 14, 2016
Kobe Bryant has won 5 Championships with the LA Lakers and been selected to the all-star team 18 times. His highest scoring game was 81 points, back in 2006, also at the Staples Center. He stands third on the all-time scoring list with a total of 33,643 points over his career.
He's also one of five players in NBA (National Basketball Association) history to have played at least 20 seasons. The others are Kevin Garnett, Robert Parish, Kevin Willis and Abdul-Jabbar.
Another illustrious career comes to an end. The NBA will surely miss Bryant for a long, long time.
Edited by Abha Srivastava