I-League: Indian Arrows look to bounce back against Churchill Brothers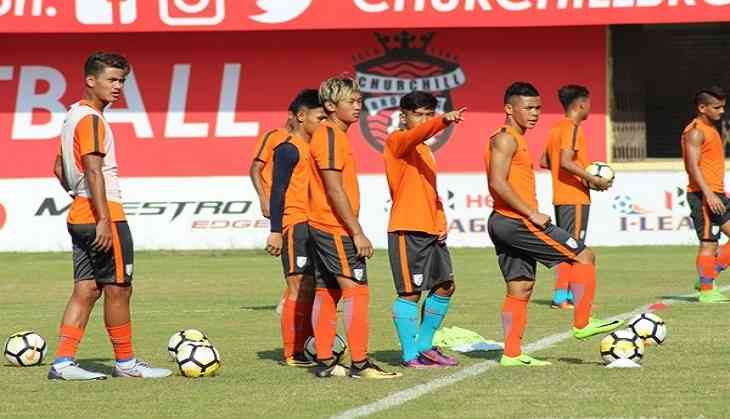 Having slumped to a 0-2 defeat against Neroca FC in their last I-League encounter, Indian Arrows will look bounce back when they face in-form Churchill Brothers here at the Tilak Maidan on Monday.
Two wins in two matches against Gokulam FC and Shillong Lajong has helped the Red Machines pick up momentum as the former I-League champions try to get their season back on track.
As far as the points table is concerned, Indian Arrows who are on 10 points have a three-point lead over Churchill Brothers as the youngest team of the competition sit in the seventh place while Churchill Brothers are in the ninth place. A win for Arrows will open up a six-point gap while a Churchill win will mean the two teams are tied on points.
"We come into the game from one defeat and Churchill Brothers come from two victories. They changed a lot of the squad. I think they are in a good moment. They have some kind of confidence to winning games. And I know if they beat Indian Arrows tomorrow, they equalize us in the table," Indian Arrows coach Luis Norton de Matos said on the eve of the match.
Matos conceded that his team had made two costly errors in their game against Neroca FC.
"In the collective, we are one of the best teams in the I-League. Individual mistakes are our weakness in the I-League but of course, the way to learn is with the mistakes. In the game against Neroca, we play better and had possibilities to win the game but we lost by two individual mistakes," the coach said.
Meanwhile, a big part of Churchill's run of form is the impact the foreign players have had on the team. The likes of Koffi Mechec, Osagie Monday, and Kalu Ogba have injected quality into the team.
"It will be fast and furious from their side. They are a very promising side and is the future. I've said that you will see a different Churchill Brothers after our new signings. They made a lot of difference to our team. They made a good balance to our team and I expect them to make the difference," Churchill Brothers coach Alfred Fernandes said.
Churchill has clearly set the goal of climbing up the ladder. They are playing their second straight home match in a series of five matches at home. But it won't be an easy task as they face the top teams in the likes of NEROCA FC, Minerva Punjab FC and defending champions Aizawl FC in their following home fixtures.
Indian Arrows meanwhile would be playing the first of three consecutive away matches which will see them facing Churchill Brothers followed by matches against Chennai City and East Bengal.
Arrows will be playing their 12th game of the season which is the highest number of games played by any team in the season. While Churchill Brothers will only be playing their eighth; which is the least in the I-League so far.
"We are trying to pick up points so that we can keep going ahead. If we lost then Churchill Brothers will have an advantage over us. The last match we lost but we want to win tomorrow," Arrows captain Amarjit Singh said.
-ANI