Gautam Gambhir, Sunil Chhetri among others to receive India's fourth-highest civilian award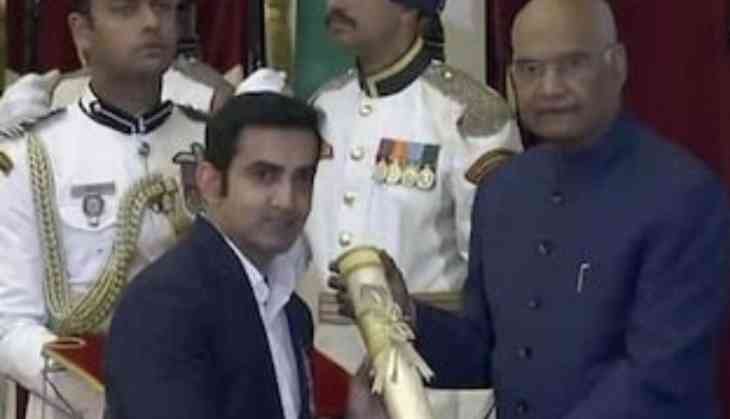 President Ram Nath Kovind presented Padma Bhushan and Padma Shri awards for 2019 at Rashtrapati Bhawan in Delhi today. Padma Bhushan is third-highest civilian award and Padma Shri is fourth-highest civilian award in the Republic of India.
This year, 112 Padma awards, including four Padma Vibhushan, 14 Padma Bhushan and 94 Padma Shri, were announced on Republic Day. Twenty-one of the awardees are women, 11 foreigners/non-resident Indian/Person of Indian-origin/Overseas citizen of India, three posthumous awardees and one transgender person.
In total nine sportsperson were awarded with the prestigious awards. Cricketer Gautam Gambhir, footballer Sunil Chhetri, wrestler Bajrang Punia and Kabaddi player Ajay Thakur were among the recipients of Padma Shri. While mountaineer Bachendri Pal was honoured with Padma Bhushan.
Here's the complete list of recipient who received the award in the sports section:
1. Ms. Bachendri Pal – Padma Bhushan (Mountaineering)
2. Shri. Gautam Gambhir – Padma Shri (Cricket)
3. Shri. Sunil Chhetri – Padma Shri (Football)
4. Ms. Harika Dronavalli - Padma Shri (Chess)
5. Shri. Sharat Kamal - Padma Shri (Table Tennis)
6. Ms. Bombayla Devi Laishram - Padma Shri (Archery)
7. Shri. Bajrang Punia - Padma Shri (Wrestling)
8. Ms. Prashanti Singh - Padma Shri (Basketball)
9. Shri. Ajay Thakur - Padma Shri (Kabaddi)
This year's awardees are from all segments of society and the government has gone beyond excellence alone, recognising larger impact and their selfless service. A record 50,000 nominations were received for the 2019 awards, over 20 times more than 2014, when there were just 2,200 nominations.
Also read: Watch: Vijay Shankar arrives in Hyderabad for pre-season camp with SRH ahead of IPL 2019