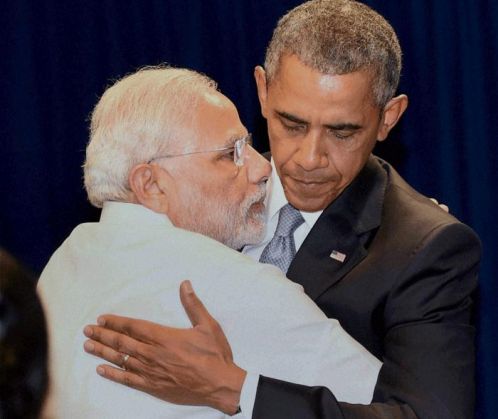 US president Barack Obama will meet PM Narendra Modi in Paris today, where the two leaders would review progress in bilateral relationship and discuss regional and global issues including terrorism.
The two leaders are expected to meet at 2.45 pm local time in Paris on the sidelines of the crucial climate change conference.
Obama and Modi would primarily focus on climate change but will also review progress in bilateral relationship. They are likely to make a brief media appearance, according to President's schedule released by the White House yesterday.
Obama would also hold a bilateral meeting with his Chinese counterpart Xi Jinping early in the morning.
After Modi came to power in May last year, the two leaders have so far met for a record five times. They last met in New York on the sidelines of the UN General Assembly in September. Paris meeting is the sixth bilateral meeting between them.
Immediately after the Paris bilateral, the two leaders would be joined by French President Francois Hollande along with other leaders and members of the private sector for Mission Innovation Event, the White House said.
Obama arrived in Paris late on Sunday night amidst an unprecedented security, in the aftermath of the terrorist attack early this month.
The first meeting between the two leaders was in Washington in September last year when Obama hosted Modi at the White House. Obama accepted Modi's invitation to be the chief guest at the Republic Day Parade on January 26 this year in New Delhi. In between, they met twice on the sidelines of other international meetings including G-20.
The Paris climate change conference, also known as Conference of Parties (CoP-21), is set to kick off in Paris on Monday and will go on till December 11.
Paris climate conference will for the first time in over 20 years of UN negotiations, aims to achieve a legally binding universal agreement on climate, with the aim of keeping global warming below 2 degrees Celsius.
The conference is expected to attract close to 50,000 participants including 25,000 official delegates from government, intergovernmental organisations, UN agencies, NGOs and civil society.
-PTI