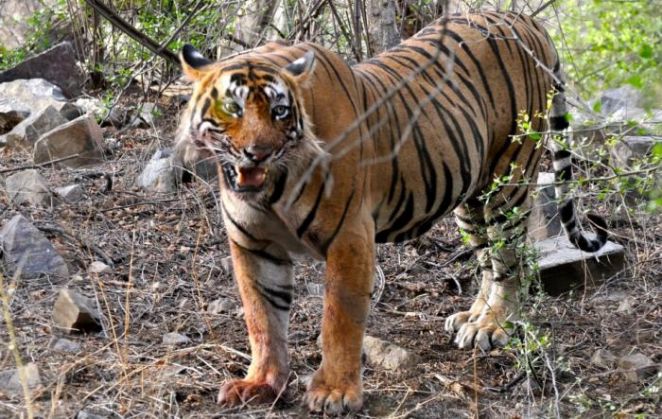 T24 (popularly known as Ustad), a tiger from Ranthambore Tiger Reserve, was shifted to the Udaipur Biological Park in October 2015, under pressure from the tourism lobby, in a manner that did not fall under the standard operating procedure of tiger translocation, the Rajasthan Chief Wildlife Warden told the National Tiger Conservation Authority (NTCA) after The Indian Express filed a Right To Information application in the issue.
The forest department had skipped meetings with the NTCA and ignored its letters on the issue.
T24 had been translocated from Ranthambore to Sajjangarh Biological Park after he was alleged to have killed a forest guard in May. Public pressure and the insistence of the tourism lobby led to the translocation, as locals were afraid of going to the Ganesh temple in the forest. RK Tyagi, Rajasthan's Chief Wildlife Warden, said that he had not informed NTCA officials because he had taken up his appointment just a few days earlier. He also said that he had followed Section 11 of the Wildlife Protection Act, but was not aware of the NTCA's standard operating procedure for tiger translocation and therefore had followed its 2007 advisory on the matter.