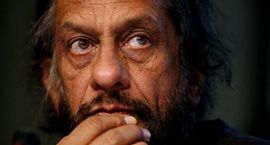 The governing council TERI on appointed an ombudsman on Monday to look into the concerns of its employees, reports the Hindustan Times. Veena Joshi, an energy sector specialist, has been appointed as the ombudsman.
TERI (The Energy and Resources Institute) was galvanised into action on Monday after news emerged that the Delhi police had prepared a chargesheet that accuses RK Pachauri, former director general of the institute of misusing his office to outrage the modesty of a woman, as well as criminal intimidation, sexual harassment and stalking in a case of sexual harassment filed by a former employee of TERI.
After the case was filed last year, 75-year-old Pachauri was removed from the post of director general of the institute, but allowed to return to work and stay on at the institute in the specially created post of executive vice chairman, with wide-ranging authority. This appointment was greeted with outrage, both public and within the institute and its university. However, when another woman made similar allegations against Pachauri last week, he went on indefinite leave.
A member of TERI's governing council said that the situation had come to this because the Delhi police filed the case against Pachauri very late, and did not provide TERI with feedback on their investigation.
"Police delayed the lodging of the FIR by over a year and complied after facing pressure from NGOs and media," he said.