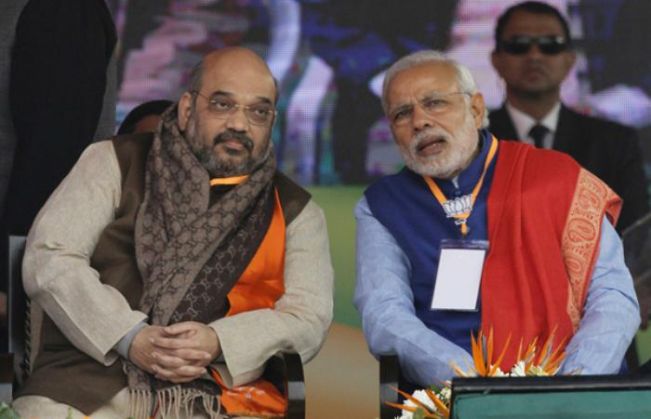 Bharatiya Janata Party (BJP) MP Gopal Shetty courted controversy, on 18 February, when he dismissed the alarming number of farmer suicide in Maharashtra, calling them a "trend".
A video from Times Now shows Shetty, a BJP MP from North Mumbai, saying: "There are many reasons for farmers committing suicide. All farmers suicides are not because of hunger and unemployment. This has become a fashion and a trend. If Maharashtra government is giving Rs 5 lakh, another government is giving Rs 7 lakh, Rs 8 lakh. There is a competition going on to give more compensation to the farmers".
BJP MP Gopal Shetty mocks misery of farmers, terms farmer suicides a 'Fashion trend' #MockingTheirMiseryhttps://t.co/0P1vSzSWWM

- TIMES NOW (@TimesNow) February 18, 2016
The video comes on a day when Prime Minister Narendra Modi is scheduled to address a farmers' rally in Madhya Pradesh. According to reports, Modi is likely to highlight the government's initiatives for the development of the agriculture sector on Thursday.
According to official estimates, 124 farmers in Maharashtra have committed suicide since January this year. The Bombay High Court is hearing a suo moto public interest litigation urging to take steps on a war-footing to prevent farmers from committing suicide.
Social media users have slammed Shetty for his comments.
AAPRaigad">@AAPRaigad @AamAadmiParty @TimesNow ''Let them eat grass'' in this instance I think! Heartless, shameless bufoons.

- Jyoti Singh (@synchronise1857) February 18, 2016
@TimesNow आये गे आँचें दिन , ज़रा सबर तो केरो कहते कहते ५ साल ख़त्म हो जाएँगे 🙏🙏🙏🙏 ग़रीबी नहीं ग़रीब हटाओ 🍌

- Bali Israr (@brokenu2) February 18, 2016
@TimesNow he doesnot know the real problems of agriculture filed....if he knows..he cant say a single word against farmers...#Shameless

- muhammad irshad (@muhammadirshad6) February 18, 2016
@TimesNow Rampant destruction of mangroves being done in his area without any action.Now this! Tch #MockingTheirMisery

- D S (@justDSingh) February 18, 2016
---- Edited by Blassy Boben