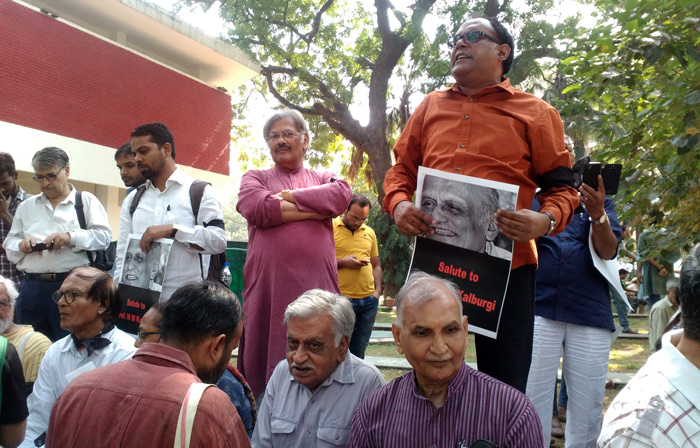 In an emergency meeting today on 23 October, Sahitya Akademi finally condemned the killing of Kannada Writer MM Kalburgi and expressed support to the protesting writers and poets.
The Akademi also urged those award winners who have returned their Sahitya Akademi awards, to take them back.
"We all condemned the killing of MM Kalburgi. We have unanimously decided that writers who have returned awards should take them back and people who have resigned should join back," executive member of Sahitya Akademi Dr. Krishnaswamy Nachimuthu said.
It rejected charge of protesters that the Akademi's autonomy has been compromised in any manner.
Before the meeting, writers and their supporters held a solidarity march with black gags and arm bands in New Delhi from Sri Ram Centre at Safdar Hashmi Marg to the Sahitya Akademi building.
The march headed by writers Geetha Hariharan and Keki N Daruwalla submitted a memorandum to the Akademi asking that it pass a resolution pledging to take stern steps safeguarding the freedom of speech and right to dissent of the writers.