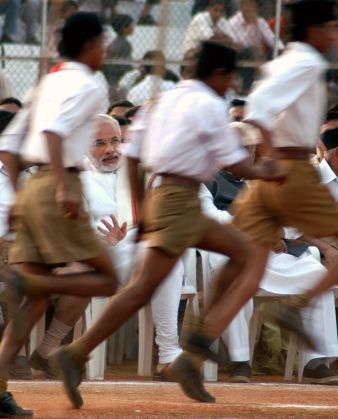 The designers of the RSS's change in uniform from khaki shorts to brown trousers have taken into account the possible sizes of the men who wear the new uniforms.
The obese will be able to wear pleated trousers for comfort and to help conceal their size, while the slim will have flat-front pants that can be worn from the hips.
The new brown trousers will be "fashionable and contemporary," said RSS spokesperson Manmohan Vaidya.
According to The Economic Times, 12 members of the women's wing of the RSS is helping the sangh's 'sharirik vibhaag' (physical exercises wing) design the trousers. After a month, these will be made by 14 manufacturing units in Gurgaon, with fabric from seven textile units in Bhilwara, Rajasthan.
"We have taken inputs from mainstream designers, but our swayamsevaks will have the final word, depending on their comfort level," said Vaidya. "I can tell you the final design will be fashionable."
Seven fashion designers have given their tips on the new RSS uniform, and three designs have been shortlisted and are being tested via physical exercise for their suitability, as RSS members are required to do their exercises in their uniforms.