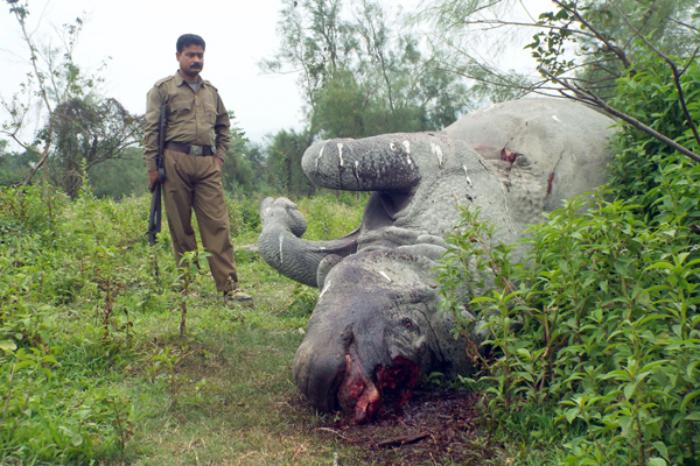 A rhino that had strayed from Kaziranga National Park into Majuli island has been killed allegedly by poachers, who also removed its horn, nails, skin portions and ears.
This is the 14th rhino from the Kaziranga National Park to have been killed by poachers this year, a Forest department official said.
The carcass of the adult male rhino was spotted today at Kerela Sapori sand bar of the island in Jorhat district, Majuli Range officer, Atul Das, said.
The pachyderm was suspected to have been killed about three days ago after it had strayed from the Park's Agoratoli extension area in Numaligarh with another rhino about nine days ago and had lost their way, he said.
The two rhinos had caused panic among people at Pogola Chapori, Konkha Chapori and Dhudang Chapori under Athotoguri area of the island before one of them was guided back towards Kaziranga by the Forest Department personnel, he said.
A search was on to send back the second rhino, he said.
The forest officer also suspected that poachers may have chased out the two adult rhinos from the KNP extension areas causing them to stray into the world's largest river island.
-PTI