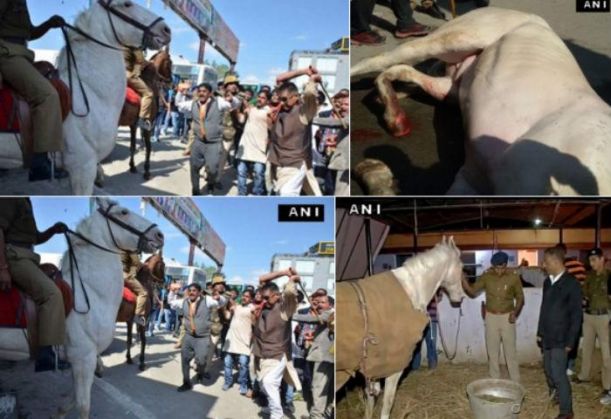 Shaktiman, the horse allegedly beaten up by a BJP MLA will sadly lose his decade-old job in the Police force.
The horse suffered grievous injuries during a protest rally by BJP workers in Dehradun and was allegedly beaten up by BJP's Mussourie MLA, Ganesh Joshi.
Shaktiman is badly battered, bruised and is left with broken limbs. And this, when he is one of the most decorated horses of the Uttarakhand Police force.
The horse was purchased for Rs 97,000 when he was just a three-year-old foal from an animal fair in Punjab.
Shaktiman and #IsHorseAntiNational are among the top trends on Twitter and netizens are wishing him a speedy recovery. But the tweets also say a lot about how animals in the police and army are being treated.
Take a look:
#Justice for #Shaktiman,no political statement over shaktiman horse,no arrest?why?cz Shaktiman doesn't count in voteBank?#ShameOnPoliticians

- suman kumar (@skumar_94) March 16, 2016
Funny, very funny is when Shaktiman's plight is balanced with the ills of the world to mask the inherent thuggery in the BJP.

- George (@George_Delhi) March 16, 2016
Police horse Shaktiman may lose decade-long job via @htTweets https://t.co/HU8z5s0iiA What police was doing when horse was being beaten?

- Big- Bang (@Krimaps) March 16, 2016
@narendramodi @AmitShah The horse, Shaktiman, will lose his broken limbs & job. Can you ensure similar treatment for #BJPMLA #GaneshJoshi ?

- ZeliaLH (@ZeliaLH) March 16, 2016
Whoever hurt Shaktiman must b Punish by law. Hope Media debates n Politics attention on 'Old Army dogs & horses are being needlessly killed'

- Anshul Saxena (@AskAnshul) March 16, 2016
Instead of falsely targeting BJP for Horse Shaktiman's injury during protest, CM Rawat should clarify use of Horse on peaceful protesters

- Rishi Bagree (@rishibagree) March 16, 2016
God bless the wonderful team of Vet Docs who operated on Shaktiman's leg. Hope Shaktiman makes a full recovery. Shaktiman power to you

- Hardy (@funkdee5) March 16, 2016
This is how they prove their point by hurting innocent faithful animals - Shaktiman The HorseSevere punishment should be given.

- Hardy (@funkdee5) March 16, 2016
@kamiltoughfor @omthanvi pic.twitter.com/mZFchg0MjIShaktiman घोड़ा तो राष्ट्रसेवा करता रहेगा,पर गधों को सुनी सुनाई पर विश्वास नहीं करना चाहिए

- आशीष कुमार अग्रवाल (@coomarashish) March 16, 2016