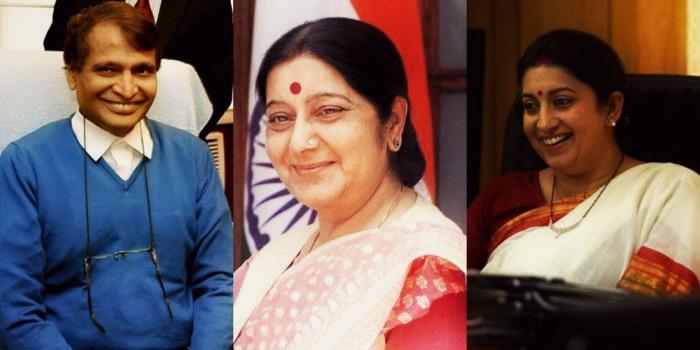 2015 had quite a number of memorable moments on Twitter. Indian politicians are flocking to the social networking site to both exchange views and make announcements.
Social media has made politicians more accessible and has enabled our netas to respond and react in real time.
Many leaders from Narendra Modi's cabinet took to social media to either lend a helping hand or to intervene in issues. Take a look:
01
Railway Minister Suresh Prabhu helping a woman passenger in Mumbai
On 26 November, a woman passenger travelling alone on an outstation train in Mumbai was quickly attended to by authorities after she sought help by tweeting to the @RailMinIndia, the Twitter handle of Railway Minister Suresh Prabhu.
She complained that a man in her coach was harassing her.
@namratamahajan1 Please contact 182 Security helpline. Also send your PNR and other details

- Ministry of Railways (@RailMinIndia) November 26, 2015
A senior officer took note of the tweet and responded to her request.
@RailMinIndia contacted 182 helpline no they assured me help near bhusawal.

- namrata mahajan (@namratamahajan1) November 26, 2015
She was asked to contact the security helpline number 182, which she did eventually. She also gave out details of her position via Twitter. She was attended by RPF Jawans once the train reached Bhusaval railway station.
She later tweeted her thanks to the Railway Minister.
02
Suresh Prabhu stopped a train to feed a child
In a rare incident, the North Central Railway provided milk to a 18-month-old passenger on a train that had been delayed by fog.
A journalist working in New Delhi with a Hindi news channel - tweeted to Prabhu seeking help for his baby, who was travelling in the train with his mother and uncle. Prabhu responded immediately, and the train was stopped at Fatehpur to get milk for the child.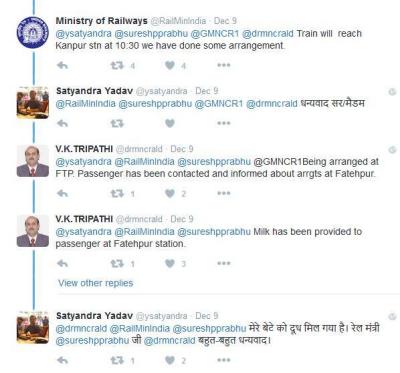 The Chief Public Relations Officer also issued a statement that the family was provided with milk at Fatehpur and Kanpur stations. "The train, 12581 Manduadih (Varanasi) New Delhi Super Fast Express, was specially stopped at Fatehpur for two minutes to attend to the baby", said the officer.
03
Suresh Prabhu may just be our new Twitter hero
On 7 December, the Railways had provided food to students from Asian School in Dehradun onboard a train that was delayed by fog.
The students were travelling from Haridwar to Howrah and the train had no pantry car. All it took was a tweet to get food for food deprived students.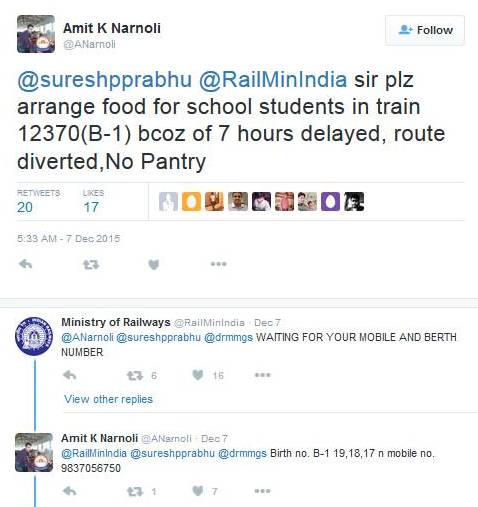 The Railway ministry quickly responded to the tweet and the food reached to the students.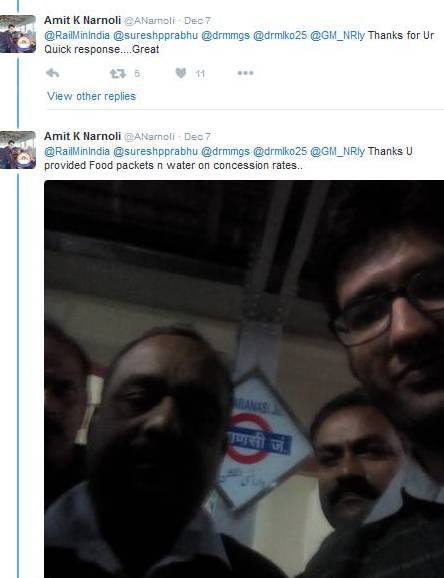 Very impressive, Mr Railway Minister!
04
Trouble when abroad? Not when Sushma Swaraj is around
In August, Twitter user Dev Tamboli posted a tweet directed to Minister of External Affairs Sushma Swaraj.
He tweeted, "@SushmaSwaraj need help for rescuing my sister fm UAE. She went to UAE for job on 14th but now locked in a room pls contact me +97466893988.
I have asked our Ambassador in UAE to help. He will speak to you and do the needful. @Devtamboli

- Sushma Swaraj (@SushmaSwaraj) August 22, 2015
Swaraj promptly replied, "I have asked our Ambassador in UAE to help. He will speak to you and do the needful. @Devtamboli."
As soon as the girl was rescued, Swaraj tweeted:
We have rescued your sister with help of local Police. She is being moved to a shelter home run by Indian Embassy in Dubai. @Devtamboli

- Sushma Swaraj (@SushmaSwaraj) August 22, 2015
Tamboli replied saying that the Dubai authorities had also begun probing the case. He thanked the Indian government and other social media organisations that stood by him at the time of distress.
@SushmaSwaraj thank you very much for all support I got from You, Ambassador in UAE and Indian social organisations in UAE.

- Dev Tamboli (@Devtamboli) August 22, 2015
05
Smriti Irani bats for students
In November, Human Resources Development Minister Smriti Irani intervened after major student unrest was reported at National Institute of Technology (NIT), Durgapur, following the death of student, Prosenjit Sarkar. The student allegedly died of medical negligence.
Students across colleges came together demanding justice for him, urging the HRD minister to intervene in the matter. They even started an online campaign with the hashtag #JusticeForProsenjit on 24 November.
Smriti Irani responded to the social media messages of students saying that she has asked for an explanation from the concerned authorities.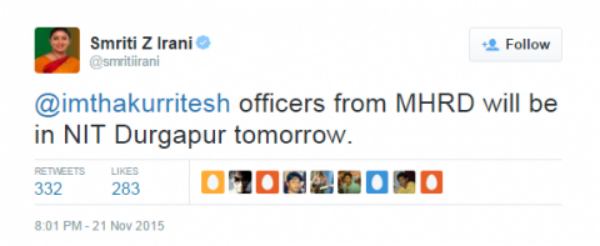 She tweeted, "Officers from MHRD will visit NIT, Durgapur to look into the matter.'
Students thanked her for the improptu help.
EMBED