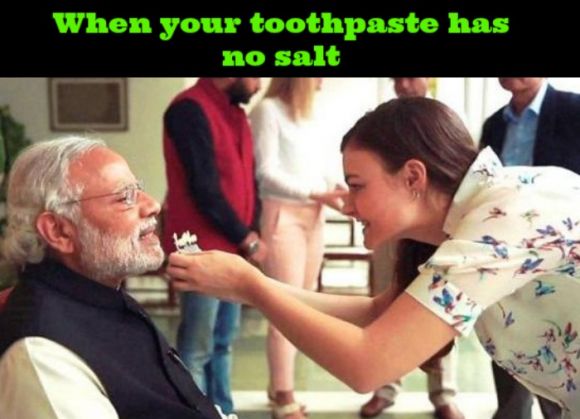 Come April and Madame Tussauds will get a new camera-friendly resident, a wax statue of Prime Minister Narendra Modi. The only other Indian Prime Ministers to be thus 'waxed' are Jawaharlal Nehru, Indira Gandhi and Rajiv Gandhi. Well, looks like the baton has finally passed on to the BJP. On his part, Modi said he was 'comforted' to know that this decision by Team Tussauds had been due to 'public opinion and public sentiment'.
With the inclusion of Bollywood celebrities post 2000 - Amitabh Bachchan, Aishwarya Rai, Shah Rukh Khan, Salman Khan, Hrithik Roshan, Madhuri Dixit, Kareena Kapoor and Katrina Kaif - Tussauds is hardly a stranger to Indian faces.
PM Modi's statue will be displayed in Tussauds London, Bangkok, Hong Kong and Singapore museums, so no matter which part of the world the globe-trotting PM might be in, you can always take a selfie.
But honour or not, once Tussauds released a video of the PM's measurements being taken by their team of artists, Twitter just couldn't stop waxing eloquent over it. Take a look, you'll understand why.
when ladkiwale verifies you with your https://t.co/4BXZXo7J94 profile pic.twitter.com/CWTDcGmKSM

- Micro-ambitious (@pal36) March 16, 2016
Madame Tussauds to have Narendra Modi statue. I am not surprised. He has been waxing eloquently for a while now.

- Madhavan Narayanan (@madversity) March 16, 2016
When your Prime Minister stops responding and you have to factory reset him. pic.twitter.com/FoqZtopHdD

- k (@krazyfrog) March 16, 2016
your reaction when she agrees to go on a date pic.twitter.com/ER93F1dHdw

- Micro-ambitious (@pal36) March 16, 2016
modi gets measured out for madame tussauds, bjp fears dummy may be more expressive pic.twitter.com/z4t5Nx5V33

- Hartosh Singh Bal (@HartoshSinghBal) March 16, 2016
EXCLUSIVE pic of Narendra Modi's wax statue pic.twitter.com/TdmF2umHw7

- Faking News (@fakingnews) March 17, 2016
Long Before Modi, AAP leader Kumar Vishwas also gave his measurement for Madame Tussaud's wax statue (1988) pic.twitter.com/r0bo7V6Mv5

- History Revisits (@HistoryRevisits) March 16, 2016
PM Modi will soon have his wax statue at Madame Tussauds.At the launch he'll push his own statue away to get a better picture.

- Akshar (@AksharPathak) March 16, 2016
--- Edited by Abha Srivastava