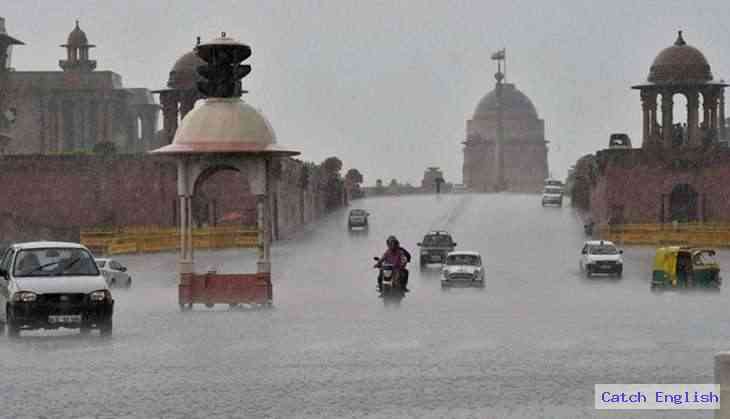 The National Capital Region woke up to a heavy downpour on 31 August.
The rains brought the morning traffic in the region to a standstill, affecting countless commuters who left homes early in the morning to reach schools, colleges and workplaces.
Many offices in Gurugram declared a work from home for employees. With many stuck in endless traffic jams, Delhiites took to Twitter to try and make the best of the situation.
Soon enough, the microblogging platform was full of both tweets of frustration as well as jokes at the expense of the residents of the National Capital. After all, what better way to deal with the wrath of the monsoon than with a pinch of humour?
In case you missed out on the fun, here are some of the best tweets from the day:
I've been waiting for an excuse to go into hibernation, this is it. #DelhiRains pic.twitter.com/3bkMfw6q7o

— Shifa khan (@SarcasmChachi) August 31, 2016
दिल्ली की बारिश में @JohnKerry "कैरी" "आम" @AamAadmiParty हो गए! #DelhiRains

— Kaushik Vaidya (@KaushikVaidya) August 31, 2016
Two hours of rain is enough to bring out the aukaat of drainage system. Black pool on roads. Total failure. #DelhiRains

— ruchi kokcha (@ruchikokcha) August 31, 2016
After 2 hours of continuous rainfall, "Wow rain! So romantic!" changes to "BC ye baarish kyun nahi ruk rahi."#DelhiRains #DelhiTraffic

— ruchi kokcha (@ruchikokcha) August 31, 2016
"Let's do a Mumbai today." Rain gods on NCR right now. #DelhiRains

— Anshuman Goswamy (@goswamyanshuman) August 31, 2016
Ajeeb Jung just declared National Holiday in the Principality of Delhi
Due to #DelhiRains

— Shuvankar Mukherjee (@shuvankr) August 31, 2016
Kejriwal blames Modi for #DelhiRains says that the clouds emanated from the damn dam Modi inaugurated yesterday in Gujarat #SAUNI

— Truth Prevails ॐ (@Anurag4Bharat) August 31, 2016
@sudhirchaudhary more depressing situation was wen @ArvindKejriwal was elected as CM for Delhi #DelhiRains

— Naitik.Shah (@naitikhshah123) August 31, 2016
Hyderabad is having its Chennai rains moment but #DelhiRains as usual is competing for attention 😠

— Kartik Dayanand (@KartikDayanand) August 31, 2016
Hope Noah is building an ark somewhere #DelhiRains

— Arjun Guleria (@GuleriaArjun) August 31, 2016
Rain rain go away, our cities do not have infrastructure to bear it all the way #DelhiRains pic.twitter.com/wPtsxqueD8

— Vikram P Jethwani (@vikramjethwani) August 31, 2016
Driving in #DelhiRains, today I realised that my car can double up as a gondola.

— Janardhanan S (@MadCapProf) August 31, 2016
@ArvindKejriwal @AamAadmiParty blaming #Modiji for #DelhiRains in 3...2...1.... https://t.co/Q4IWxfnFfq

— Ritu Rajput (@ritu_rajput) August 31, 2016
It's like being on a boat, with waves too. Rocking day in deed! #DelhiRains pic.twitter.com/fSwB5tzkEx

— Lubna (@lubnaahmed) August 31, 2016
We need less cars, and more boats!#DelhiRains pic.twitter.com/SREQIe3rd1

— Akash Kandari (@TheAkashKandari) August 31, 2016
Dear all those who voted for someone who promised you free water. Atleast 1 promise has come through 😂
Enjoy #DelhiRains . #StaySafe

— Vivek Pathak (@pafcoms) August 31, 2016