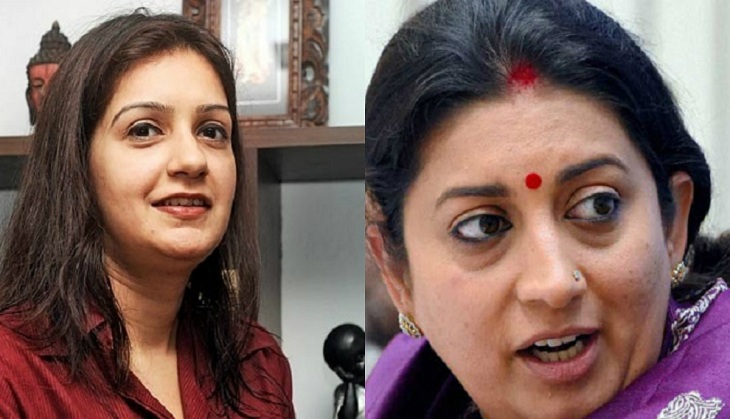 It is common knowledge that HRD Minister Smriti Irani is extremely active on Twitter, tweeting out responses to critics, opining on keys issues, engaging in (sometimes trivial) debates. What she is not known for, however, is humour.
The erstwhile television actress gave us a glimpse of her funny side, making a solid Mihir pun in her response to journalist Mihir Sharma's tweet to her. However, it has a grim context.
The controversy that has been brewing recently, surrounding the very unfortunate issue of Priyanka Chaturvedi receiving "death and rape like Nirbhaya" threats has taken a new turn, with journalist Mihir Sharma piping in about Smriti Irani's response to the issue.
Also read - Threats versus Abuse: Congress' Priyanka Chaturvedi explains her latest Twitter spat with Smriti Irani
When Mihir Sharma called out Smriti Irani's insensitive response to Priyanka Chaturvedi's complaint against a rape threat she received on Twitter, she mistook him to be Mihir Srivastava of the Outlook magazine, and responded with a joke.
She can be funny, you guys!
This is how it all went down:
@mihirssharma irrespective of ideology no one should be subject to abuse or threats. And authorities should immediately be informed.

— Smriti Z Irani (@smritiirani) May 23, 2016
@smritiirani basically there are far too many Mihirs in the world :)

— Mihir Sharma (@mihirssharma) May 23, 2016
@smritiirani hahahaha :)

— Mihir Sharma (@mihirssharma) May 23, 2016
@smritiirani eh? Do explain what I have "written about you as a woman".

— Mihir Sharma (@mihirssharma) May 23, 2016
Even though she goes back to her antagonistic and bordering-on-the-defensive stance, she does acknowledge the fact that abuse, irrespective of what your political allegiance might be, is not acceptable.
Whether this can be deemed as an apology for the vitriol she unleashed on Priyanka Chaturvedi earlier today, remains unclear. But what we do know is that her sense of humour does exist.