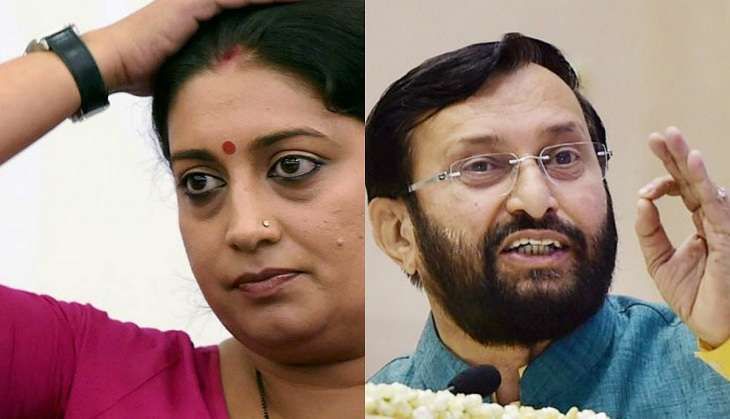 Move over, the Kardashians and the Swift-Hiddleston shippers of the world. Our very own now erstwhile Human Resource Development Minister Smriti Irani successfully broke the internet, as she was replaced with Prakash Javadekar during the path-breaking Cabinet reshuffle that took place on 5 July.
Twitter went berserk, with #ByeByeSmriti trending wildly on top, as people took to the microblogging platform to express their relief, disbelief and speculations surrounding the massive cabinet upheaval.
There were of course the trolls, doling out the finest giggles over Irani's exit, and her taking the helm of the textile ministry.
#ByeByeSmriti We will miss you @smritiirani . You was hope for many of dull students like me. Ab kya hoga?

— EKRAM WARIS (@ekramwaris) July 6, 2016
Would be interesting to see how she influences Sanghi fashion now #ByeByeSmriti

— sandeep sharma (@sansharma81) July 6, 2016
Preview of Future of textile in country Since now we have @smritiirani at helms of Textile Ministry #ByeByeSmritipic.twitter.com/2L0i31mp5A

— Jayrajsinh Mori (@jayrajmori) July 6, 2016
This guy basically summarizes the sentiment of the majority of the Indian twitterati :
#ByeByeSmriti. Never have I been happier to see a hashtag.

— Shaurya Shekhar (@ShauryaShekhar) July 5, 2016
Future of textiles industry under the guidance of madam #UddGayiSmriti #ByeByeSmriti

pic.twitter.com/mKx8QYxtJW 1

— manish sharma (@manusharma0145) July 5, 2016
Former MoS for Environment, Forest and Climate Change Prakash Javadekar was elevated to a Cabinet rank in the reshuffling, as he replaced Irani as the Minister for Human Resources and Development.
Javadekar's track record as Minister for Environment, and his RSS affiliations ensured that he wasn't spared from a fair amount of trolling.
Smriti Irani to Javadekar.
What do you want India? Bash your head against a rock or a hard place?

— Ankur Bhardwaj (@Bhayankur) July 5, 2016
Good work #ByeByeSmriti pic.twitter.com/lnLBaT2Osa

— sheikh haroon (@haroonsheikh786) July 5, 2016
too much attention on Irani's exit, not on Javadekar's entry at HRD, RSS has got its man in place

— Hartosh Singh Bal (@HartoshSinghBal) July 6, 2016
And then of course there were those speculating the motivation behind the decision. Many took to Twitter to speculate about the larger picture and the BJP's ulterior motive behind replacing Irani with Javadekar.
I am not sure #SmritiIrani has failed the test. The political test.

— Krittivas Mukherjee (@Krittivasm) July 6, 2016
#ByeByeSmriti
If some believe Prakash Javadekar is less saffron, they are terribly mistaken.

— RAMAKANT TIWARI (@VayamBrahmasmah) July 6, 2016
The gravest threat to the education system is Saffronisation. Javadekar will be a more intense swayamsevak pic.twitter.com/S23QuI2YKI

— KB Byju (@KBByju) July 6, 2016
People Who Are Happy On Smriti Irani's Removal From HRD Ministry, Will Be Equally Sad After UP Elections. ;)

— Sir Ravindra Jadeja (@SirJadeja) July 5, 2016
#ByeByeSmriti and bye bye Chinese Gandhis, she is now going to cook your goose in UP

— Deepak (@deepakmr27) July 6, 2016
I think @BJP4India has a bigger role for @smritiirani considering the upcoming UP elections

— Budwiser (@siddharth_says) July 6, 2016
Maximum government. Minimum governance. #ByeByeSmriti

— lindsay pereira (@lindsaypereira) July 6, 2016