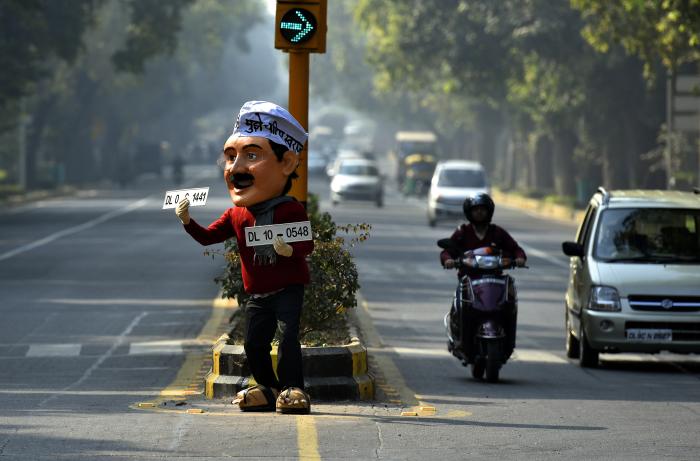 Delhi's Odd-Even formula to combat pollution appears to have been branded a success by the residents of Delhi. Netizens have praised Delhi Chief Minister Arvind Kejriwal for the initiative - claiming that the trial run has resulted in a dip in pollution levels and has led to less traffic.
Social media users have some glowing reviews for the trial run, with some even asking Kejriwal to extend the formula beyond its 15-day trial run - which ends on 15 January.
Some users have also declared the formula to be the best thing to happen to the National Capital in a long time. While there are conflicting reports about how effective the trial run has been in terms of reducing pollution levels, Kejriwal seems to have won this round, at least with social media users.
These words of praise are sure to bring a smile to Kejriwal's face.
Take a look:
#OddEvenSuccess of the 'Same Location'Delhi has pulled off the Impossible!Jai Ho!Jai Ho! @ArvindKejriwal Ki JaiHo! pic.twitter.com/6Aawwie7Yk

- #SherDilKejriwal (@anisaz9_basit) January 7, 2016
After #KejriwalCleansEducationSystem and #OddEvenSuccess my Mumbai friend asked me if AAP?src=hash">#AAP has plans to contest next Maharashtra elections

- #MakeIndiaFirst (@BabbarMridul) January 7, 2016
Even Nobel laureates are praising AK!! 👌 #OddEvenSuccess https://t.co/Nt3KVwgCkI

- Ruchi (@iRuchi_1) January 7, 2016
congratulation to #DMRC , you people have done owsome JOb great frequency , #OddEvenSuccess is because of you

- Tahir Bashir (@spookiesspook) January 7, 2016
Diesel and petrol sale 40% down in Delhi.#OddEvenSuccess pic.twitter.com/W9TQjig1LR

- Sangam Garg (@sangam89) January 7, 2016
Other states which are going to implement Odd-Even itself shows why it should be called a successful initiative. #OddEvenSuccess

- Ruchi (@iRuchi_1) January 7, 2016
Odd even plan has been so good that actually it should continue for a month. At least. #OddEvenSuccess

- Tarandeep Singh (@Taran4) January 7, 2016
Monitoring stations at 4 locations in Delhi show decline in PM 2.5. #ODDEvenSuccesshttps://t.co/3dBAj56XJ3

- जासूस शुभम् (@shubh_ind) January 7, 2016
Better Results , Better Facility #OddEvenSuccess pic.twitter.com/krdKtR9uvU

- Ankita Shah (@Ankita_Shah8) January 7, 2016
Govt need to work for people and people whole heartedly support such govt decisionsAAPgovt and Delhiites working as team #OddEvenSuccess

- KK Singh (@_KKSingh) January 7, 2016
Politicians must learn how @ArvindKejriwal , @AamAadmiParty and the citizens of Delhi turned a PROBLEM into a PROJECT #OddEvenSuccess

- I believe in change (@ajisptpm) January 7, 2016
#OddEvenSuccessCongestion decreased, pollution decreased, travelling cost decreased, Civic pride increased.If there's will, there's a way.

- Aam Aadmi Party- AAP (@AamAadmiParty) January 7, 2016
This is Karol Bagh right now. I have always dreaded crossing this stretch. Unbelievable. Surreal. #OddEvenSuccess pic.twitter.com/FioCZArvRE

- Abhinav AAP (@AbhinavAAP) January 7, 2016
What a start of 2016 for Delhi'ets...1) #OddEvenSuccess 2) #KejriwalCleansEducationSystem 2 min of silence for #Bhakts.

- RajnikantV/sCIDJokes (@RVCJ_FB) January 7, 2016
All the cynics can take a walk..Delhi has shown that they can come together for a cause # proud #OddEvenSuccess

- Reena Gupta (@Reenaguptamehta) January 7, 2016