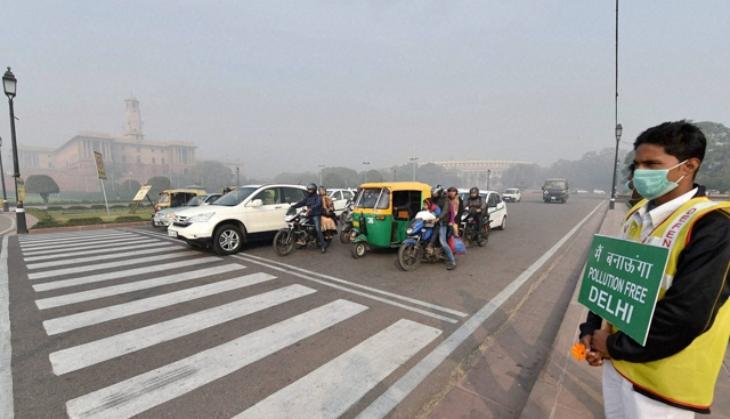 The second round of the Odd-Even formula for vehicular traffic in the National Capital is set to commence on 15 April and end on 30 April. The Delhi government is leaving no stone unturned to   repeat the success it achieved the first time round in January.
Apart from introducing additional metro trips and buses, more metro coaches have been added. Not just this, for the convenience of commuters, Delhi government has introduced a carpooling app - PoochhO. Thanks to this app, commuters will be able to explore carpooling options during the 15-day exercise. 
Just a day before the pollution-combating exercise begins, netizens have flooded Twitter with tweets on Odd-Even 2.0. It would be safe to say that people are looking forward to the scheme and are showering praises on 'Fortune Top 50' leader Arvind Kejriwal.
A user tweeted that Arvind Kejriwal's Odd-Even scheme is better than Indian PM Narendra Modi's 'Make in India'.
Take a look:
AK has done more in 1 yr than Shiela did in 15 years to create awareness n fight Pollution. #OddEvenDobara https://t.co/8WLwmN6HR9

— जयश्री (@AAPkSaath) April 14, 2016
Just realized that #OddEvenDobara starts tomorrow. This is going to be exciting. #LessTrafficLessPollution #DelhiBeBest

— Sahil Bhalla (@IMSahilBhalla) April 14, 2016
Being a Delhiite, I still remember how people were accusing AK before 1 Jan but after 15 Jan, whole NCR said- #OddEvenDobara

— Anurag Pandey (@anak2422anak) April 14, 2016
Scary pictorial warnings on cigarettes are of no use if the air you breathe itself is polluted!
#OddEvenDobara pic.twitter.com/p8czpKncIV

— Dance4Democracy (@Dance4Democracy) April 14, 2016
Won't have to look at the watch before entering Delhi. No 'peak traffic hours' for 2 weeks. Thanks to #OddEvenDobara 👍

— Manak Gupta (@manakgupta) April 14, 2016
Delhi!! Are u ready for #OddEven ? I am..And like last time,I will follow it this time too..Women, #GiveUp the exemption if you can :)

— richa anirudh (@richaanirudh) April 14, 2016
Delhi needs to make #OddEvenDobara successful because first time a govt has taken steps to curb pollution

— kumud (@tweetkumud) April 14, 2016
#OddEvenDobara @ArvindKejriwal pic.twitter.com/9eep04OB7B

— Upma Kumar (@KumarUpma) April 14, 2016
Fully support #OddEvenDobara becos it is fresh, fast, stress free, jamless, in time, traffic.

— A K KAUSHAL (@ashokaushal) April 14, 2016
Thanks for reintroducing #OddEvenDobara
Delhi must get rid of the Car mania
Time to start massive rainwater harvesting program this monsoon

— aniket prantadarshi (@prantadarshi) April 14, 2016
Badal jayega delhi ka nazara jab hoga #OddEvenDobara

— kumud (@tweetkumud) April 14, 2016