Will Twitter be the next big social media network to be acquired?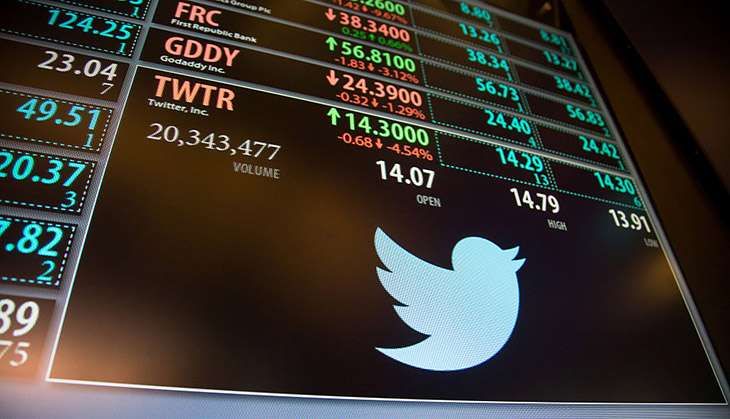 Yahoo was first. Will Twitter be next? According to reports in the media, Twitter, the 140-character based social media company, is said to have signalled the start of a slow rolling auction to sell itself. As the company deals with issues such as stagnant user growth, soft advertising sales and losses running into hundreds of millions of dollars a year, the rumours of a sale have been floating for several months now.
The social media company, now over ten years old, has struggled despite many people flocking to the service for their daily dose of news,entertainment and sheer idiocy.
According to Reuters, Alphabet's Google is the frontrunner while Salesforce.com is also interested. On Monday, 26 September, Disney was the latest high-profile name to jump into the fray according to a report from TechCrunch. Microsoft also has thrown its hat in the ring, this time, the news coming courtesy CNBC.
One company that is not on the list, a little surprisingly, is Mark Zuckerberg's Facebook.
Disney has a long history of being associated with digital media properties. They've been involved in Hulu, Vice and BAMTech - a streaming service providing technical know-how to products like HBO Now. Their biggest business however, remains cable TV properties ESPN and ABC.
What makes Disney the most plausible buyer of Twitter? Their CEO, Jack Dorsey sits on Disney's board.
Vala Afshar, Salesforce.com's chief digital evangelist, tweeted his personal views, pretty positive ones as well, after the first reports on Twitter came out in the media late last week:
Why @twitter?

1 personal learning network
2 the best realtime, context rich news
3 democratize intelligence
4 great place to promote others

— Vala Afshar (@ValaAfshar) September 23, 2016
I have tweeted my personal views regarding 'Why Twitter?' numerous times over the past couple of years. I simply love Twitter.

— Vala Afshar (@ValaAfshar) September 23, 2016
CNBC, on Friday, cited anonymous sources saying that Twitter is in talks with both these companies and may even receive a formal bid sometime soon.
Twitter has just not been able to grow independently. Add to that the constant tinkering with the design and features that just hasn't worked out and it's a lose-lose situation for the company.
While a sale isn't imminent, Twitter's board of directors are desirous of a deal according to media reports. More so, the momentum towards a deal is picking up and some analysts say it could potentially happen before the end of the year. These companies are interested in not only Twittter's position as a media company but also in the data that the social media behemoth generates on a daily basis.
Co-founder Evan Williams even publicly admitted that the directors have been considering all options in the recent months. Sources at Recode said that the board was looking at about $30 billion from the sale. That's more than the $26 billion price that Microsoft paid for LinkedIn.
As of last week, Twitter has experience both ups and downs. Firstly, Twitter CEO Jack Dorsey's mission to make the company 'live' was finally paying off.
"The company's live streamed NFL game got it positive reviews and a decent-sized audience. Next, it announced a deal with Bloomberg to livestream all three presidential debates and while the first debate has come to an end, we are yet to know what impact it's had. "It felt like progress after three years of executive turnover, internal dysfunction, and existential angst," wrote Erin Griffith on Fortune. Then came reports of a sale.
Twitter, at the moment is waiting for a formal bid but according to CNBC, a sale could happen as soon as 30 to 45 days from now. Twitter may have had a bad run in recent times, but this acquisition has helped the stock jump 20 percent. That's certainly a healthy boost bound to help it keep pace with other similar companies like Snapchat.