Samsung launches 2018 TV range with S-Voice and not Bixby
Samsung has brought to India its 2018 lineup of televisions. It's come to the country with its flagship QLED, mid-range UHDs and some Make for India 'concert' TVs. The South Korean tech giant has expanded its models within the ranges. The QLED lineup gets 8 models now, instead of the earlier 6. The UHD lineup has increased all the way to 16 models.
Here is what all has been launched:
8 QLED TV models ranging from 55-inch to 75-inch in flat and curved variants. Prices start from Rs 2,45,000.
16 UHD TV models starting from 7100 series, followed by 7470, 8000 and finally The Frame. The UHD range starts from Rs 64,900.
6 'concert' series models have been launched. "The Smart concert and Joy concert are available in 32", 43" and 49" sizes", Prices start from just Rs 27,500.
The televisions in the QLED range come with Samsung's One Remote with S-Voice built-in along with an 'Ambient Mode'. Ambient Mode replicates the background on the wall behind the TV. All one needs to do is take a picture of the wall behind the TV via Samsung's SmartThings application and the TV will do the rest of the magic. The Ambient Mode can also display the weather and select artworks. Furthermore, the SmartThings app can be used to connect the TV to other IoT devices and "sending notifications and, mirroring screen and sound". Last but not the least, the QLED lineup of TVs feature a new One Invisible Connection. This is one, slim cable, that "can transmit data as well as power".
With the QLED lineup of TVs, Samsung is throwing in a free Samsung Galaxy S9 (retail price Rs 57,900) and 10-year no screen burn-in warranty.
The UHD range comes with Samsung's One Remote with S-Voice built-in and support for HDR and is equipped with Samsung's Dynamic Crystal Color technology for better and more accurate colour representation. Ther will be a free soundbar or speaker thrown in with the purchase of select UHD models.
When the televisions were launched in the USA, the models came with Bixby and not the outdated S-Voice.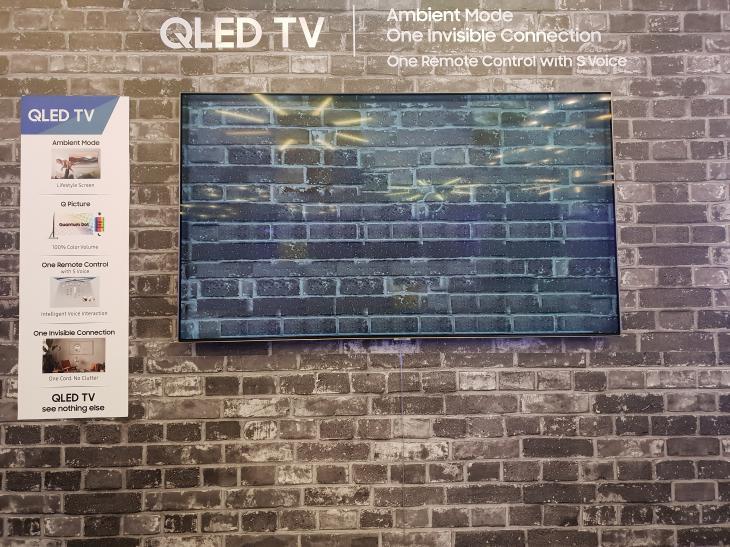 Sahil Bhalla/Catch News
Outdated S-Voice and not brand new Bixby
What is curious is that the televisions launched in India come with an outdated S-Voice and not Bixby, it's voice assistant in-built on all the company's smartphones. When the TVs were unveiled in New York City a couple of months back, the QLED range of televisions came with Bixby built in and offered voice assistant capabilities out of the box. In fact, Bixby arrived on last year's models as well via a software update.
Samsung India executives had no concrete answer on why S-Voice was the choice for India and not Bixby. All they said was, "we need time to localise Bixby and get it on your television sets". What has been forgotten is the fact that Bixby already lives on our Galaxy range of smartphones from Samsung and that it has already been localised. It's as simple as porting it from the smartphone to the television sets. If Samsung can get it done in the USA, then one wonders as to why not in India.
Samsung executives, on further probing, said that it would take a couple of months at the minimum to get Bixby to India and that the company is evaluating the market before moving forward. What that means is that the company is not happy with Bixby and its market share in India and wants to wait and watch before unleashing it upon their "best selling" range of televisions.
With a brand new update - Bixby 2.0 - coming with the launch of the Galaxy Note 9 in August, one wonders whether