Google launches Pixel 2, Daydream VR. India to get them after Diwali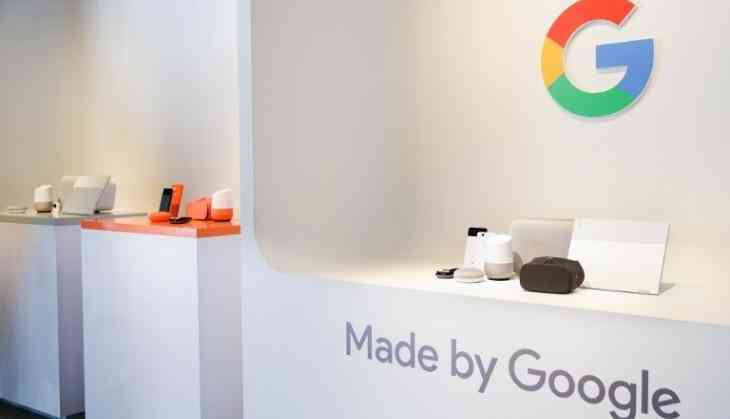 Google is doubling down on its hardware ambitions, taking a cue from Amazon and Apple. This is the second year Google has been involved in making hardware and it's brought out a plethora of gadgets. There's the Pixel 2 and Pixel 2 XL that everyone expected.
Alongside that, Google also came out with Google Clips, Google Home Mini and Max, a Pixelbook, an updated Google Daydream and finally some Pixel Buds.
In India though, Google is all set to miss the bumper Diwali sale season as the Pixel 2 is landing on 1 November while the Pixel 2 XL comes 15 days later on 15 November. Diwali, for those who don't know, falls on 19 October this year.
Amazon and Flipkart sell the most number of smartphones during this period and with Google missing it, there will be a lot of lost sales and revenue.
At the moment, Google India has only confirmed the launch of the Pixel smartphones and the Daydream VR headset. There is no word on the street about any of the other products - PixelBook, Pixel Buds, Home Mini and Max and Clips - will even come to India.
Here's a breakdown of everything launched by Alphabet's Google in San Fransisco on Wednesday, 4 October.
Pixel 2 and Pixel 2 XL
Google has finally announced its second generation of its Pixel smartphones, the Pixel 2 and Pixel 2 XL and both are coming to India within a month. The Pixel 2 is closer to its predecessor but the Pixel 2 XL has some noticeable design changes. Most of all are the jump in size from 5.5-inch display up to a 6-inch display along with an almost bezel-less design. It's not perfectly edge-to-edge because there are front-facing speakers.
The smaller Pixel 2 sticks with the 5-inch display and its thick bezels. The one difference in design is on the back. Both phones have a shortened glass accent at the top and it no longer encases the fingerprint sensor. One final difference is the camera where the bump is back! The camera lens has gotten ever so larger and juts out ever so slightly from the back of the phone.
As far as specifications go, it's got all the bells and whistles of a flagship smartphone. Both phones have Qualcomm Snapdragon 835 processors coupled with 4GB of RAM and 64GB/128GB storage (no SD card slot). They both have front-facing stereo speakers and come with OLED displays. The big omission is the headphone jack. It's gone and this may mark the end of the headphone jack in all future smartphones out there.
The Pixel 2 comes with a 1080p display while the larger Pixel 2 XL has a 2880x1440 display. Both come with Bluetooth 5.0 support, are IP67 certified and have a USB Type-C port and they both get the latest Android 8.0 software.
The Pixel 2 XL comes with a 3,520 mAh battery while the Pixel 2 comes with a smaller 2,700 mAh battery.
As far as the camera department goes, that's where the Pixels' cameras excel. Both phones come with the exact same cameras and sensors. The Pixels have gotten a record-setting DXOmark score of 98. For reference, the iPhone 8 and Galaxy Note 8 both got a score of 94. Both the Pixels' come with a 12.2-megapixel rear camera (no dual camera setup) with a f/1.8 aperture and optical image stabilisation and electronic image stabilisation.
The cameras come with what Google calls "dual-pixel sensor" which divides every pixel into 2. This allows for faster autofocus and the camera can offer "portrait mode" (blurred background effect) without the need for a second camera. Google is claiming that the bokeh effect will work on objects and not just people. Finally, the front-facing 8-megapixel camera will also come with the "portrait mode".
Finally, the phones come with an always-on display which shows notifications and time. The Pixels also take advantage of the always-on microphones that can now listen to music and then display what you're listening to on the screen.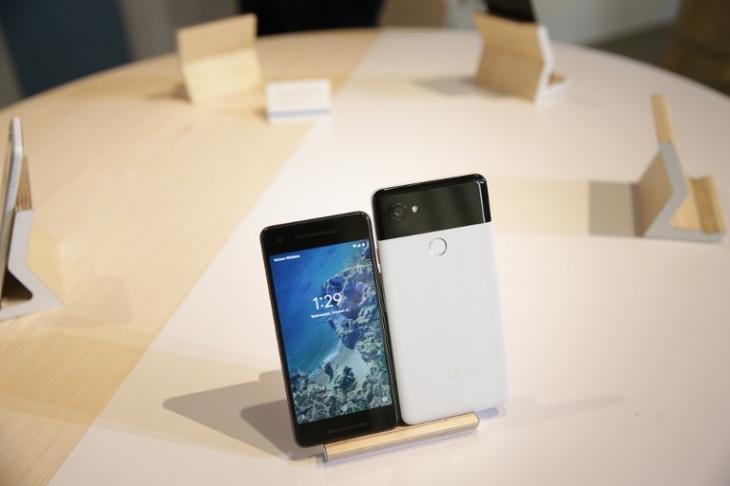 Elijah Nouvelage/AFP
Pixel launch date & price in India
The Pixel 2 prices are:
Pixel 2 64GB: Rs 61,000
Pixel 2 128GB: Rs 70,000
Pixel 2 XL prices are:
Pixel 2 XL 64GB: Rs 73,000
Pixel 2 XL 128GB: Rs 82,000
Pre-orders commence on 26 October for both phones.
Pixel 2 will be available for sale in both offline and online starting 1 November while the Pixel 2 XL will be available starting 15 November. Both phones will be available exclusively on Flipkart.
Google Pixelbook
The Pixelbook comes with a Pixelbook Pen and starts at $999. It's the Chromebook Pixel rebranded with upgraded specifications. It's a 2-in-1 Chromebook with big keys, a wide track pack and a 12.3-inch display. It flips around to become a tablet, just like Lenovo's Yoga laptops. Google's PixelBook's display doesn't do away with the bezels. It's a tall 12.3-inch display with a 3:2 screen aspect ratio.
The base model comes with Intel's 7th generation i5 processor, 8GB RAM and 128GB of storage along with two USB-C ports. The Pixel has Google's Assistant built into it with a dedicated Google Assistant key. The PixelBook Pen comes in at $99 and acts just like a Wacom stylus and is powered by AAA batteries.
The device will start shipping on 31 October in US, UK and Canada.
Google Daydream VR headset
The new Daydream View VR headset, an update to last year's model is coming to India. It'll be available in grey, black, or coral pink and is compatible with the Pixels, Samsung Galaxy S8, Note 8, and LG V30. The new Daydream View VR headset comes with a new look and a few design tweaks and new and improved lenses.
It is being priced at $99 in the USA and Rs 7,999 in India. It'll be sold exclusively on Flipkart starting 1st November.
Google Home Mini and Max
Google has announced a smaller, more portable companion to its Google Home smart speaker. It's called the Home Mini. It's very similar to Amazon's Echo Dot and comes in at $49. It takes the goodness of Google Assistant and packs it into a compact and quieter speaker.
The aim of the Google Home Mini is to get Google Assistant into as many rooms as it can. Unlike the Echo Dot, the Home Mini omits the 3.5mm headphone jack. Google says that the Home Mini will also connect wirelessly to any speaker with Chromecast built in.
There is also the Google Home Max, which is basically a supersized speaker. This is going to compete directly with Apple's HomePod. The Home Max is a stereo speaker that runs Google Assistant. There are two 4.5-inch woofers alongside tweeters that are covered by a fabric speaker grille.
There are also far-field microphones. This means that the speaker can hear you above the music that is playing. The Max has a 3.5mm audio jack and features touch controls and supports Bluetooth.
Home Max will be available in December and retail for a whopping $399.
Google Pixel Buds
The company has released their first wireless headphones. They're being called the Pixel Buds and they're powered by artificial intelligence. They're truly wireless earbuds and feature gesture controls that let you swipe or touch to switch songs, answer phone calls, or adjust volume levels.
The earbuds come in three colours: black, white, and blue and aren't cheap. They'll retail for $159.
The earbuds have a matching charging case that can power them with a 620 mAh battery. Google claims the Pixel Buds provide up to 24 hours of listening time. Thankfully, Google has included a USB-C port.
The earbuds work with any Bluetooth-enabled device. The bonus for Pixel owners is that they will be able to activate Google Translate to get real-time translations of conversations. You just talk into the earbuds and the phone's speaker will translate it into any desired language. Google claims it works with 40 different languages.
Google Clips
Google saved a surprise for the finale of the event. Google CLips is a small, artificially intelligent camera that "thoughtfully" captures images in its line of sight. There is no display on the device like traditional cameras. There is a shutter button that is entirely optional to use.
The camera takes pictures for you. It captures the best moments on its own, using machine learning to recognize and learn faces.
The device is being priced at $249 and allows someone with a Pixel, Galaxy S7 or S8 and iPhone 6 and later, to be "part of the moment". No more does one person have to sacrifice their spot in the photo. Google is calling Clips a "designated photographer".
The device is also tiny. It is small enough to fit into the palm of a hand and is very much portable. It's designed to clip onto a pocket. The camera has a wide-field lens and can capture a 130-degree view of what is in front of it. Clips links directly to your phone and so there is no need for any internet connection.
There is no word on whether the rest of the products will be coming to India. We've reached out to Google for an official confirmation. When we get one, we will update this article.