Can't fall asleep? Napflix wants to help you snooze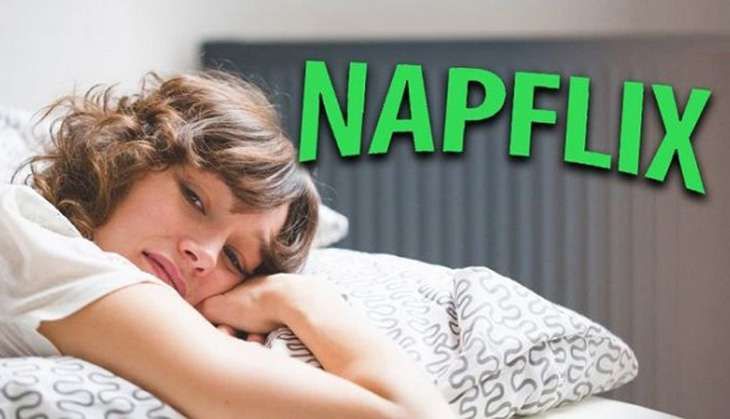 I'm sure you've all heard of the term "Netflix and chill". But have you heard the term "Napflix and sleep"? Well, now you have. For a lot of us, sleeping without a TV on has become difficult. To that extent, Napflix wants to help out.
You might remember the Yule log trend on YouTube and Netflix that was taking over the internet last Christmas. Now, Napflix, the Spanish video platform, has raised the stakes. The website is a self-described "siesta video platform".
Napflix compiles those videos on YouTube that are monotonous. It's basically giving support to those in dire need of a sleeping pill. Napflix is fully invested in making one fall asleep. They've basically run with the Norwegian idea of 'relaxed and slow TV'.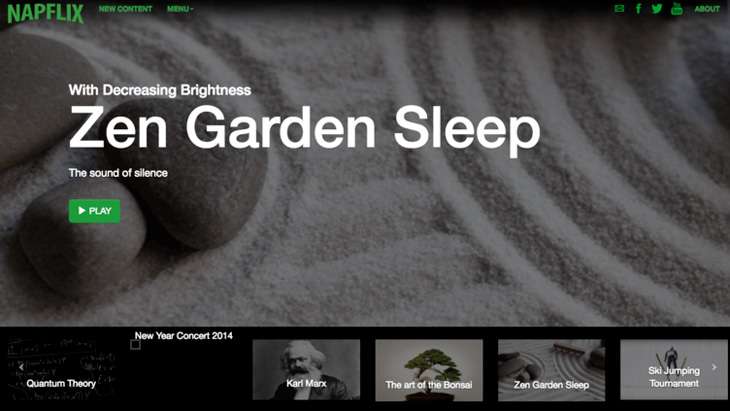 Napflix
Norwegian nap TV
It's boring, unexciting and just too long to keep one's interest. But that's the key to its success. Here's how Stephanie Merry of the Washington Post described the Norwegian phenomenon, "Norwegians have reclaimed television as relaxation. They'll watch unedited footage of a train chugging for hours from Bergen to Oslo or a 5 1/2-day program chronicling the MS Nordnorge's voyage along the coast. Even "twelve hours of nonstop knitting" is a selling point. There may not be much to rehash around the water cooler, and the clips won't go viral, but the viewing experience is less harried. Brawls don't erupt over spoilers".
Norway even has a hit tv show called "Slow TV". When their first show broadcast in 2009, a 7.5 hour long train ride from Bergen to Oslo, two million people (45% of their population) tuned into the show. They aired an episode called National Knitting Morning.
Who needs sheep when you have Napflix
It is content like this that is king on Napflix. Just check out some of the categories on offer: Advertising, sports, videogames, documental, music, education, daily, relax and religion.
Regardless of which you choose though, the effect will be the same -you'll be bored stiff.
The website has the exact same layout as Netflix and even acknowledges on it's disclaimer screen that it's a parody of the popular media-streaming service. However, instead of shows like Orange is the New Black and Narcos , you're instead treated to videos like 'Traditional Latin Mass' and 'World Chess Final 2013'.
The makers of these videos are also facing a Catch 22 situation with Napflix - on the one hand they'll be pleased by the extra number of hits their getting (because people will be watching over 80% of these videos), but on the other hand, they're being labelled as "boring and unexciting" and that won't go down well.
One of the two co-founders, Victor Gutierrez de Tena, told AFP that, "the idea is to make entertainment boring". For a glimpse at what's on offer on Napflix, we've curated some of their finer content for your snoozing pleasure:
A ten-hour countdown... to nothing
The Wonderful World of Tupperware
A 1964 educational documentary on the wonders of airtight plastic containers. Hold on to your seats for this one.
3 hours of Relaxing Aquarium Fish, Coral Reef Fish Tank & Relax Music (1080p HD)
A 2-hour-long documentary on pine trees and Bonsai
Try staying awake through this
Whether it soothes you or not, a night of sleeping to background music might be worth a shot