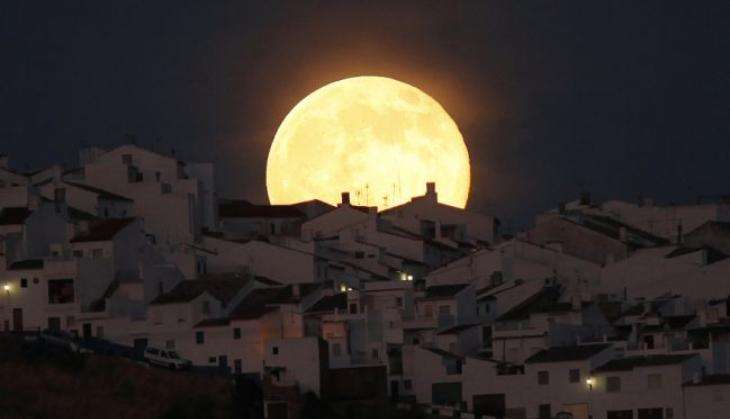 The moon was a sight to behold on 14 November, when it came closer to the Earth than it has done in almost 70 years.
Stargazers from London to Kolkata stared up at the sky to admire the magnificent supermoon - which appeared to be 14% bigger and 30% brighter than its usual size.
The silvery glow of the moon soon transformed into dim red, providing most sky gazers with the experience of a lifetime.
The next supermoon can be viewed on 14 December - one of the year's six supermoons.
On 14 November, however, the Moon was at a distance of about 356,508 km from the Earth. Those who missed this rare supermoon-lunar eclipse combination will now have to wait till 2034.
The phenomenon was first visible in Asia. Star gazers scaled high-rise buildings and flocked to observatories and beaches to witness the phenomenon in its full glory, and of course, to snap some dramatic pictures.
Here are some of the best photos of the epic celestial phenomenon:
#Supermoon stunner in #Livermore. Thx Euan Rannachan for the amazing pic! pic.twitter.com/bRYtETJi1m

— KTVU (@KTVU) November 15, 2016
A man stands on his balcony in Madrid to get a glance at the #Supermoon (📸 by @ggjulien) pic.twitter.com/S9wdFuzebt

— Darren Rovell (@darrenrovell) November 15, 2016
Incredible shot of the #supermoon over an oil refinery. Either that or it's the Eye of Mordor. #supermoon2016 pic.twitter.com/nJgm4KIoWH

— Andy Cole (@AndyCole84) November 15, 2016
#Supermoon over Aggieland! 🌕 #tamu pic.twitter.com/KCxd8S9uoS

— Texas A&M University (@TAMU) November 15, 2016
The #supermoon rises over downtown #yyc. #moon #supermoon2016 pic.twitter.com/zinoW0oM9o

— Lyle Aspinall (@LyleAspinall) November 15, 2016
The #Supermoon over Syracuse ☁🌝 pic.twitter.com/eTBnczCH5N

— kev (@KevinDarcy_) November 15, 2016
The #supermoon over Boston tonight... 💯 pic.twitter.com/DxP79dBjIY

— Only In Boston (@OnlyInBOS) November 15, 2016
Superb Moon rise in Boston #supermoon2016 #supermoon @universalhub #Boston pic.twitter.com/xWwYkYwVoj

— Tamas K-L (@tamaskls) November 15, 2016
WOW! Yesterday's moon seen from Colorado Springs, Colorado. Photo credit: Forrest Boutin. #Supermoon #Space #COwx pic.twitter.com/6LWAXhVkn3

— Mark Tarello (@mark_tarello) November 14, 2016
As next @Space_Station crew preps for Nov. 17 launch, the #supermoon rises behind the rocket that will carry them: https://t.co/W7XDwq8Kbt pic.twitter.com/UayI2xzbBs

— NASA (@NASA) November 14, 2016
I'm really happy with this shot of the #supermoon. Great viewing again tonight in Crowborough, East Sussex. pic.twitter.com/6hq7PIDlrJ

— Nick Harvey (@mrnickharvey) November 14, 2016
Enjoy the Super Moon tonight.
Seen in Fremantle Australia#supermoon pic.twitter.com/4EB2tWQ0IV

— Sonda Paranormal (@SondaParanormal) November 14, 2016
We can't wait for 2034!