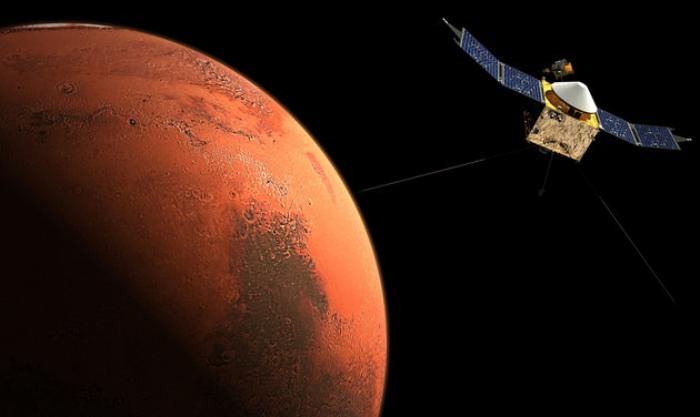 The mission to look for life on Mars is on its way to the Red Planet. The European Space Agency (ESA) and Russian Federal Space Agency (RFSA) have sent a robotic probe to Mars to find if the planet has any traces of life.
Dubbed as ExoMars 2016, the mission lifted off from Baikonur Cosmodrome in Kazakhstan on a Russian Proton rocket at around 3 pm. The seven-month journey will search for life on Mars.
The lift-off and separation of the rocket were live streamed via @ESA_ExoMars on Twitter. You can watch it below:
Meanwhile, enjoy that #ExoMars lift off again pic.twitter.com/gcUf2SMEZw

- ESA (@esa) March 14, 2016
Liftoff for #ExoMars 2016 with @ESA_TGO & Schiaparelli; #Proton stage separations underway and fairing jettisoned! pic.twitter.com/nGaO30ngz7

- @ESA_ExoMars (@ESA_ExoMars) March 14, 2016
LIFTOFF! #ExoMars Trace Gas orbiter & #Schiaparelli start a 500m km journey to the #RedPlanet @ESA_TGO & @ESA_EDM pic.twitter.com/pPWX2NRaY3

- ESA Operations (@esaoperations) March 14, 2016
Glimpse of #ExoMars #Proton rocket on the launch pad at Baikonur https://t.co/qUzSaczbyl pic.twitter.com/qO4Fv5elbJ

- @ESA_ExoMars (@ESA_ExoMars) March 14, 2016
The first phase of the mission will have the Trace Gas Orbiter (TGO) and Schiaparelli lander - an entry, descent and landing demonstrator. The TGO will make a comprehensive inventory of Mars' atmospheric gases, particularly rare gases like methane, whose existence implies that there's an active, current source.
"TGO aims to measure its geographical and seasonal dependence and help to determine whether it stems from a geological or biological source," the ESA said in a statement.