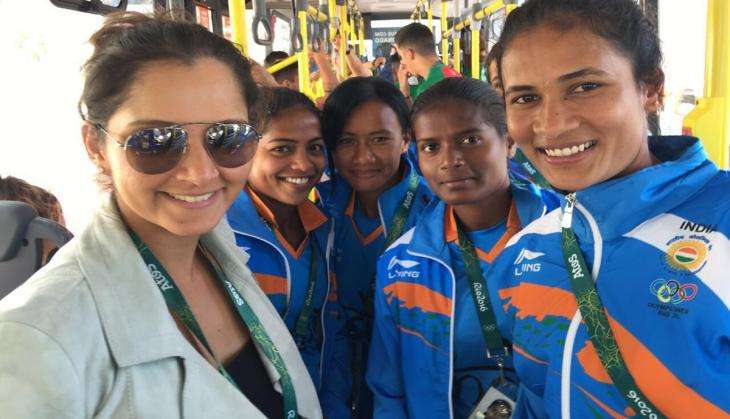 Indian tennis ace Sania Mirza launched India's tricolour emoji for the Rio Olympics on Twitter on 2 August. Sania posted a video where she can be heard saying that she was excited for the upcoming games.
Watch the video here:
#IND Flag emoji for the #Olympics 🇮🇳 pic.twitter.com/Ng3qD6Wx1Z

— Sania Mirza (@MirzaSania) August 2, 2016
This feeling 😀💪🇮🇳 Rio bound .. #TeamIndia #Olympics https://t.co/wEzJ5CsWHc

— Sania Mirza (@MirzaSania) July 31, 2016
Google has unveiled a set of features for the Olympics, including flash cards and live updates. Fans can stay up-to-date with the games and the medal tallies once the Games kick off on 5 August. Like other social media platforms, Twitter has also jumped on to the bandwagon.
Minister of Youth Affairs and Sports Vijay Goel tweeted about how one can change their profile pictures to support India in the Olympics.
You can change your Profile picture to Cheer for the Indian Olympians by tweeting #KheloIndia to @IndiaSports

— Vijay Goel (@VijayGoelBJP) August 2, 2016
"2016 is the year of the Twitter Olympics and we're happy that the ministry of youth affairs and sports has exclusively chosen Twitter to help fans get behind Team India for the Olympics," Hindustan Times quoted Aneesh Madani, head of sports partnerships, Twitter India, as saying.
Fans will also be able to use over 50 Olympics and sports emojis, which are available in English, French, Portuguese and Spanish. The hashtags that trigger the emojis as well as the hashtags #Rio2016 and #Olympics are also available in Japanese, Korean and Arabic.
"Twitter's activation of the Rio 2016 Olympic Games will bring fans around the world together to see what's happening with the teams before, during and after the top athletes compete for glory," Leslie Berland, CMO of Twitter, was quoted as saying.
"Twitter, Vine and Periscope will offer fans inside access, commentary, highlights and conversation throughout the Games and as the action unfolds," he added.