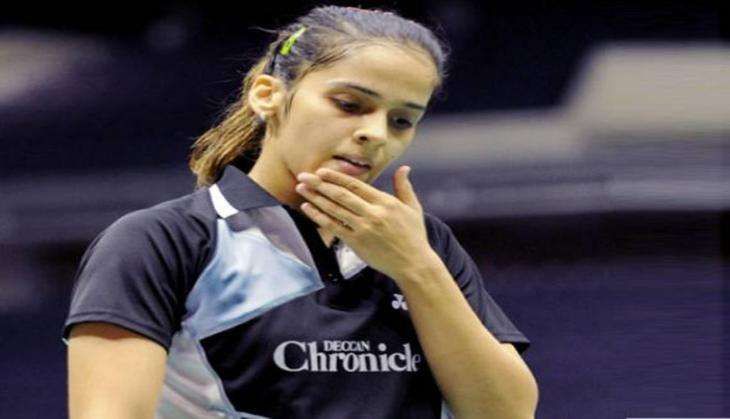 In what turned out to be a horrific start to India's Day 9 campaign at the Rio Olympics, one of country's brightest medal hopes Saina Nehwal suffered a shock defeat at the hands of Ukraine's Maria Ulitina in the women's singles badminton event on 14 August.
The Indian shuttler, who won a bronze medal at the 2012 London Olympics, was stunned 18-21,19-21 by the Ukrainian who is ranked 61 in the world singles rankings.
The world no. 5 shuttler began well with an early 7-2 lead in the first game. But, the Ukrainian fought back really well to make it 8-8. Going into the break with a 11-9 lead, Nehwal squandered her lead yet again as her opponent crawled back to make it 16-16.
Ulitina made full use of her height to get the crucial wide angles on her smashes which also forced numerous errors from the Indian shuttler. With the game at 20-17 in favour of the Ukrainian, Nehwal did manage to save a game point. But, Ulitina forced another error from Nehwal to take the first game 21-18.
After losing the first game, Nehwal rarely looked at her prolific best with lack of movement on the court. The 26-year-old Indian tried to crawl her way back with the scores going neck to neck in the second game, while the lead also exchanging hands multiple times.
Despite going into the break at 11-10, the Indian shuttler failed to seize the momentum after getting caught by drop and angled shots on multiple occasions. The second game went all the way to 19-19 before a brutal cross-court smash gave Ulitina a match point.
The Ukrainian was just a point away from pulling off a shocking win over the much-hyped Indian who couldn't have made it any more easier for her opponent. Nehwal produced yet another error on the match point to hand the second game and the match to a lowly-ranked Ulitina.
The Indian badminton contingent at Rio Games comprises seven players, making this the largest team ever to head to an Olympic event. And, Nehwal - considered India's premier female shuttler - was one of India's biggest medal hopes following her exploits at the international level over the last decade.