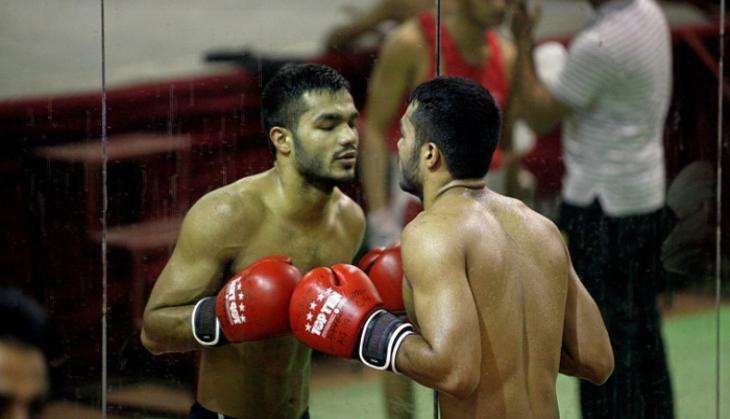 As Indian boxer Vikas Krishan Yadav gets ready for his quarterfinals bout in the 75-kg middleweight boxing event at the Rio Olympics, the entire nation has pinned high hopes on him for opening the medal tally for the Indian contingent.
The Asian Games gold medallist and World championship bronze medallist will face second seed Bektemir Melikuziev of Uzbekistan in the last-eight clash.
Speaking about Krishan's performance, his coach Jagdip Hooda said, "We are feeling very proud of him. But still the race is still on and we have to strive for a medal. We will definitely try for a gold medal."
Talking about Krishan's quarterfinal's bout, Hooda said, "It is going to be a very interesting bout. But I believe that Vikas will win the match. We have worked on each and every weakness of Vikas and have tried to overcome them. We have made a strategy as to how we can attack on the weaknesses of the Uzbekistan's boxer."
Meanwhile, National boxing coach Gurbaksh Singh Sandhu also praised Krishan for his pre-quarter's victory against Sipal Onder of Turkey at the Riocentro Pavilion on Friday, saying, "It was a very good performance from Vikas in the pre-quarterfinals. He played very intelligently."
Sandhu believes that Krishan's bout against the Uzbekistani boxer, who is the World championship silver medallist and the Asian champion, would be very tough.
"Bektemir Melikuziev is a very good boxer. But Vikas can do anything. You can expect anything from him if it?s his day. We are all positive and hopefully he will perform very well," he added.
A semifinal entry will ensure a medal and the 24-year-old boxer will attempt to emulate Mary Kom and Vijender Singh in winning Olympic medals.