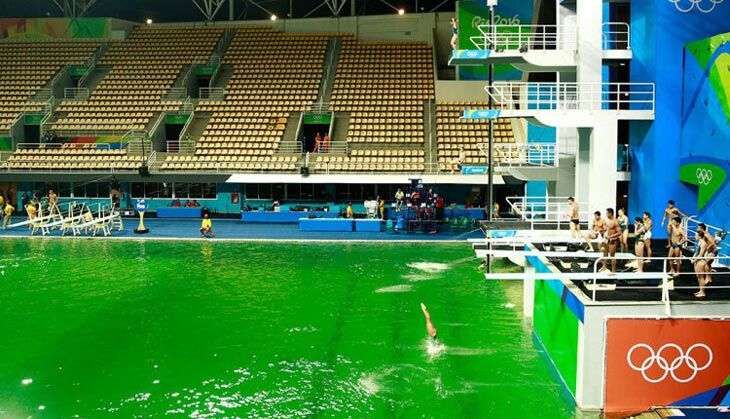 As Britain's swimming stars Tonia Couch and Lois Toulson stood poised on their diving board for the synchronised diving 10m final, they noticed that something was different about the water.
The water at the Maria Lenk Aquatics Centre, was a deep green, a far cry from the azure blue that Olympic pools are known to be.
However, the two dove right in and bagged the fifth spot. Later, commenting on the green water, Couch told media persons: "I've never dived in anything like it but it didn't impact us. We noticed it in the warm-up and then by the competition it was even more green, but if anything it made it a bit easier to spot."
The water appeared blue when the Aquatics event took place on 8 August. But the players and spectators were amazed to see it turn green on 9 August. But it did not stop there. The water was turning greener by the minute.
Olympic organising committee spokesman Mario Andrada said, "We don't know exactly what happened. And we don't know yet why the pool changed colors." He further added that the water was tested on 9 August, and the investigation is on but "there were no risks for the athletes."
After the competition ended, the organisers released a statement which read: "It's very important to the Rio 2016 community to ensure a high quality of play. Tests were conducted and the water was found to be safe. We're investigating what the cause was."
The water quality at the Maria Lenk Aquatics Centre was tested and there were no risks for the athletes. We are investigating the cause.

— Rio 2016 (@Rio2016_en) August 9, 2016
"Why are people asking about the water? I think the water is normal for an outdoor pool, so it's not a big deal for us as long as it doesn't affect our performance," said Malaysian silver medalist Pandelela Rinong.
"We noticed it, but it didn't smell, and nothing is left on our skin. So it didn't really affect us," said Mexico's Paola Espinosa, who finished sixth.
While the swimmers and the organisers played it down, Twitter reacted with curiosity and conspiracy. British diver Tom Daley tweeted:
Ermmm...what happened?! pic.twitter.com/pdta7EpP2k

— Tom Daley (@TomDaley1994) August 9, 2016
Others followed suit. Some speculated that algae was responsible, others suspected oxidisation. But Twitter was united in its confusion. Take a look:
Someone is going to get out of this green pool and be bald. Or a mutant. #Olympics

— Ben Owers (@geordiebenno) August 9, 2016
I can't be the only one that thinks the #Olympics diving pool has turned green because someone did a wee in it?

— Heather Perkins (@heaper) August 9, 2016
Just waiting for Shrek to come out of the swamp that is the Rio diving pool!#Rio2016 #diving #GreenPool #BBCRio2016 pic.twitter.com/EzMsohFBzJ

— Grant (@SnowAndBeach) August 9, 2016
@mrdanwalker pic.twitter.com/J3dXLdTdSF

— Andy Cole (@AndyCole84) August 9, 2016