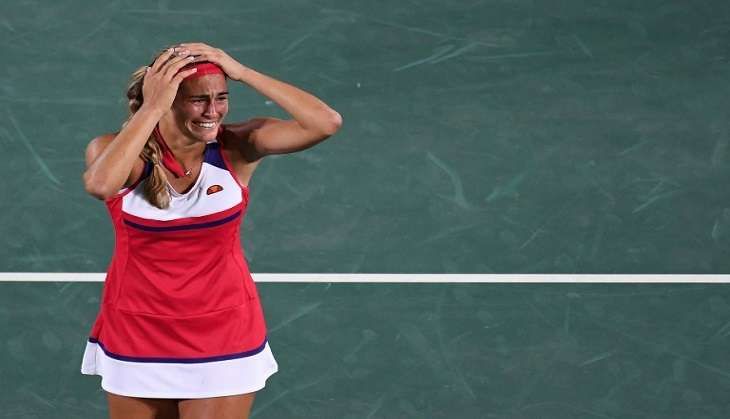 Tennis player Monic Puig won Puerto Rico its first ever gold medal at an Olympic Games with 6-4, 4-6, 6-1 win over Germany's Angelique Kerber. "It's just amazing," Puig said. "I know my country really appreciates this and I really wanted to give this victory to them". For the first time ever, La Borinquena, the Puerto Rican national anthem was played at an Olympic medal ceremony. Puerto Rico has been sending athletes since 1948 and has won medals before, but never of this colour. Puig is also the first woman ever from Puerto Rico to win a medal.
Puig is the 34th-ranked tennis player in the world and Kerber is the 2nd-ranked player. Puig had not beaten a top-10 player all year and only once in her career. In Rio, she beat two - Gabrine Muguruza in the third round and then Kerber. Puig's win comes as a surprise to all. What's even more stunning is that she was unseeded at these Games. She's the first unseeded woman to win the singles title since tennis returned to the Games in 1988. Puig's game was an all-round attack. She blasted winners dow the line. Kerber had no response.
Puig's father had forseen her victory, sending her lyrics to the national anthem a day earlier, in case they came in handy.
It was a tense closing game for Puig. She had to save six break points and only on her fourth match point did she convert. She immediately flung her racket and went to collect the flag that she would parade across the court.
"She played her best tennis and one of her best matches in her career, for sure," Kerber said after the match. "I tried everything."
In the bronze medal play-off, Czech Republic's Petra Kvitova defeated United States' Madison Keys in a three-setter 7-5 2-6 6-2.