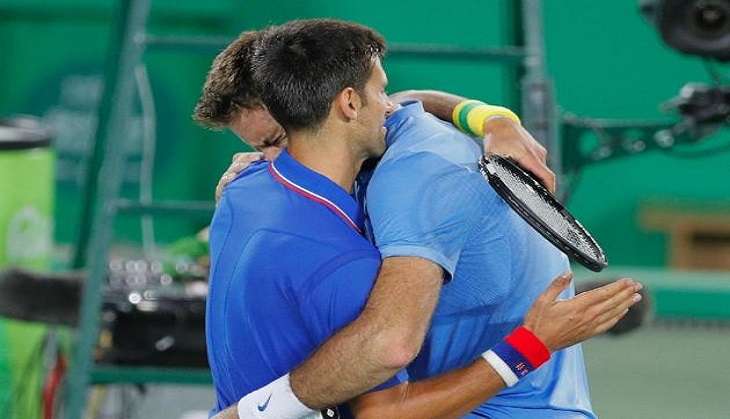 It can't get any worse for world no 1 Novak Djokovic who exited the court in tears. The Serbian tennis player, winner of the Austrlian Open and French Open in 2016 - just can't win a set at the Rio Olympics. Djokovic was bounced by big hitting Argentine Juan Martin del Potro in straight sets on Sunday, 7 August. It's safe to say that del Potor is back while Djokovic is gone.
Del Potro, currently ranked no 145 in the world, had defeated Djokovic in the bronze medal match at the London Olympics in 2012. The straight sets score at the Rio Olympics read 7-6, 7-6. Earlier in the year, Del Potro had played at Wimbledon, his first major in two and a half years. At Wimbledon, Del Potro shocked fourth-seeded Stan Wawrinka in the second round there. Del Potro, 27, has been ranked as high as no. 4 in the world, but has suffered due to three left wrist surgeries.
A top seed hasn't won an Olympic gold medal since Andre Agassi in Atlanta in 1996.
Earlier in the day, Del Potro was stuck in a lift for 40 minutes after a power outage. He was rescued by the Argentine handball team. Del Potro will now face Joao Sousa of Portugal on Monday, 8 August. For Djokovic, he stil has the doubles left with countryman Nenad Zimonjic.