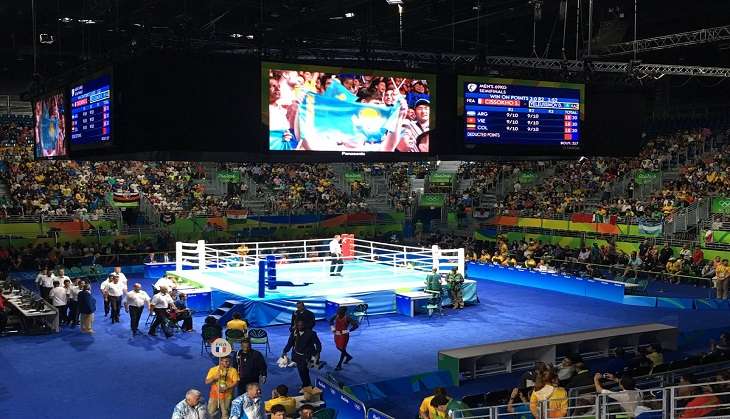 On Monday, 15 August, Vikas Krishan, India's last hope for a medal in boxing at the Rio Olympics, took to the ring against second seed Bektemir Melikuziev of Uzbekistan in the 75kg category. Krishan came to the ring and gave it his all. Krishan was no match for the Uzbek boxer and took a pounding. He lost by a unanimous 3-0 decision. For much of the fight, the Indian was on the backfoot. This loss meant India's boxing contingent will be coming home empty handed for the first time in eight years.
Krishan's loss comes after Shiva Thapa (56kg) and Manoj Kumar (64kg) already bowed out of contention. In fact, it is the second successive time that the male boxers failed to secure a medal, given that the 2012 bronze had come through M C Mary Kom (51kg). Vijender Singh (75kg) thus remains the first and only Indian male boxer to have secured an Olympic medal (a bronze in 2008 Beijing Games).
In the quarterfinal contest, seventh-seeded Vikas was simply no match for the world no. 3, a World Championships silver-medallist and the reigning Asian champion, a title he won after beating Vikas in the final last year.
The overtly cautious Indian hesitated in opening an attack for most part of the first round while Melikuziev scored at will with his lethal left hand. The second round was even worse for the Indian as Melikuziev gained firm control of the bout, also using his right jab to good effect.
In fact, one such blow led to Vikas spitting his gum-shield out and even before he could recover, a left hook from Melikuziev had left him dazed. Such was the power and precision of Melikuziev's hitting, that two of the judges ruled 10-8 in his favour in the second round. Vikas, a former World Championships bronze-medallist, completely lost the plot in the final three minutes, struggling to keep his balance after the pounding he took in the first two rounds.
In the end it was a stroll for the 20-year-old Melikuziev, who was hitting at will against a near stationary Vikas.
- With inputs from PTI