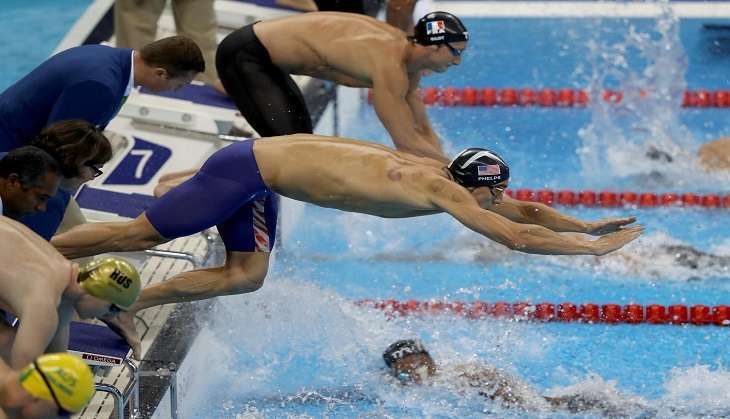 Michael Phelp's first swim at the 2016 Olympics in Rio was the 4x100m freestlye relay. Michael Phelp's first swim was also his first gold medal of the Games. Phelps was joined by Nathan Adrian, Caeleb Dressel and Ryan Held. Nathan Adrian swam the anchor leg in the relay to get USA over the line.
Ryan Held was the only holdover from the morning. Held competed in the preliminary heat with Anthony Ervin, Blake Pieroni and Jimmy Feige. All nine of these swimmers will be getting a gold medal. Phelps won gold with the 4x100m freestyle relay back at the 2004 Athens Olympics and the 2008 Beijing Olympics. At the 2012 London Olympics, Phelps and Co had to settle for a silver medal.
WOOOOOOOOOOOOOOOOOO pic.twitter.com/s5VKXg8cjQ

— SB Nation GIF (@SBNationGIF) August 8, 2016
Led by Michael Phelps' blazing second leg 47.12 split and Nathan Adrian's anchor leg, the United States took revenge on the French team that knocked them off the top of the podium back in London in 2012.
Michael Phelps has now won 19 gold medals. His total medal tally stands at 23, - 19 golds, 2 silvers and 2 bronze - more than most countries entire history of medals.
The American team is usually chosen from the top finishers of the 100m freestyle at the Olympic Trials. Phelps chose not to conetest that event and was chosen anyway.
The French relay team came home with the silver and the bronze went to the Australians.